Lost in Reefs 2
Match-3 game with different mechanics in addicting Lost in Reefs 2 Game
System Requirements
OS: Windows XP/Windows Vista/Windows 7/Windows 8
CPU: 2.0 GHz
RAM: 1024 MB
DirectX: 9.0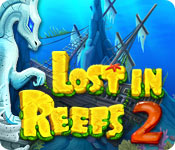 Lost in Reefs 2 Game Description
While other Match-3 games support only one gameplay mode (Swap or Chain), Lost in Reefs 2 goes a step further by now including Group, a third, new gameplay mode. Swap pieces between spots, trace a "chain" between identical pieces, or -now- explode groups of similar colors. And to complete a level, destroy the marble plaques. It's harder than it sounds! Another game exclusive is the shape of the playing field: Lost in Reefs 2 offers a traditional rectangular field as well as an innovative six-sided one for a greater challenge.
Lost in Reefs 2 full version features include:
Three gameplay modes: swap, chain, group
Relaxing music and smooth sounds
Amazing underwater town to restore
Play Lost in Reefs
Lost in Reefs 2 Game Customer Reviews
It's a simple Match Three that's colorful with little "thinking" involved. No wandering around wondering what to do next .. no dark tale you're trying to follow .. just a simple mindless game of M3. If you like these kind of games - then it's right up your alley. You can whittle away the hours. Next thing I knew I'm on level 50...lol. Very similar to the first game, tho it's been a while since I played. If you liked Lost in Reefs, you'll like this one as well.

- by Mystic10
I had to try this game because I have the first one.This version is just as good.The graphics are good and the music is worth listening to.There are even whale and dolphin sounds.It has several variations of M3 modes and you can play timed or untimed.The game play was smooth and the sounds were not overwhelming.If you liked the first one you will love this one.It is not a game that you will get through quickly which is a plus for me.I purchased it immediately.

- by IsisRising
Related Games
If you like Lost in Reefs 2 game, you may also like...