The Enchanted Kingdom: Elisa's Adventure
A delightful Match 3 game! in addicting The Enchanted Kingdom: Elisa's Adventure Game
System Requirements
OS: Windows XP/Vista/7/8
CPU: 1.2 GHz
RAM: 512 MB
DirectX: 9.0
Hard Drive: 45 MB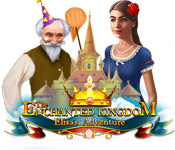 The Enchanted Kingdom: Elisa's Adventure Game Description
Elisa was just a peasant girl when the king died and one of his advisors told her he believed she was the rightful heir to the throne. To prove her worth, Elisa must conquer a fearsome dragon, face off against a giant plant and bring down a wicked witch, all while gathering the resources to rebuild what was once a glorious realm. All kinds of fun await the brave of heart in The Enchanted Kingdom: Elisa's Adventure, a delightful Match 3 game for the whole family!
The Enchanted Kingdom: Elisa's Adventure full version features include:
Gripping gameplay
Fast-paced action
Help Elisa save her kingdom!
The Enchanted Kingdom: Elisa's Adventure Game Customer Reviews
I played this game on another site before coming here and couldn't believe that I had played 60 min. Having the Match-3 and the HO combined was so good. Then adding the addition of the building was a very unique idea. Although, it would have been nice to hear the characters talking rather than reading what they were saying, I still loved the game. I am buying this one straight out as I already know what I'm getting and I can hardly wait to play. I am a match-3 fanatic most of the time and there haven't been enough on here lately. Having the combination of all three is a real treat! I'll take more of these!

- by de9803
This game is a mixture of match 3, HOG, building, and mini games. The match 3 mechanic varies with the level you are playing. Game objectives are given by clicking on the scroll at the bottom right of the screen, inventory from the left, and the map of your area in the center. If in doubt, just click the 'play' button! The music is Celtic-inspired and very pleasant to listen to. There is a lot of dialogue (which can be skipped) but which explains what you are trying to do- rebuild a kingdom. Also a lot of subtle humor is present- for instance the potion to get rid of the plague of locusts is also labeled 'laxative', which is remarked upon by the heroine when the mage gives it to her..... The game keeps track of time, but is untimed; bad clicks are counted but one is not penalized for them. No voiceovers, dialogue must be read. Animation is clunky, similar to Mushroom Age, but adds to the game's overall charm. Billed as a family game, this most surely is just that. Very upbeat and pleasant to play. I truly enjoy this charming game.

- by catlynn54
Related Games
If you like The Enchanted Kingdom: Elisa's Adventure game, you may also like...