Grimm's Hatchery
Raise magical pets and fight monsters in an enchanting kingdom! in addicting Grimm's Hatchery Game
System Requirements
OS: Windows 2000/XP/VISTA
Memory: 256 MB
DirectX: 8.0 or later
CPU: P500
Video: 3D Accelerated Video Card with OpenGL or Dir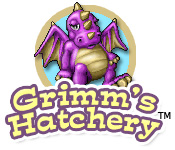 Grimm's Hatchery Game Description
Your evil step-brother has taken over the kingdom, but will allow you to buy back your family's castle if you can earn enough gold. This is how your adventure begins in Grimm's Hatchery! This mystical tale is packed with 20 types of magical pets, four hatcheries, and several villages to explore! You can hatch pets, create new breeds of pets, fight annoying and pesky monsters, solve quests for the villagers and much more! What kind of pets will you create? The answer lies in Grimm's Hatchery!
Grimm's Hatchery full version features include:
Hatch Eggs As You Play!
Create 17 Different Magical Creatures!
Unlock 6 Areas Of The Kingdom!
3 Difficulty Levels!
Grimm's Hatchery Game Customer Reviews
As your herd of magical pets swells, you can buy new, more luxurious places to raise your pets and unlock new parts of the kingdom to explore. In Grimm's Hatchery you explore villages in a beautiful kingdom, solve quests, find goodies, buy magical pets, breed magical pets, and create new species of pets. Grimm's Hatchery is a magical pet simulation game made by the creators of the hit role-playing (RPG) game Aveyond. The Grimm's Hatchery tale begins when your step father has died and left the kingdom to your evil step brother, Lord Boras. However, if you earn 300,000 gold coins in 80 days, you can kick out Lord Boras and take the castle for yourself. To get your kingdom back, you buy a run-down cottage called Grimm's Farm, where you can raise and breed new species of magical pets.

Grimm's Hatchery is a unique game concept and will appeal to adventure game lovers, SIM gamers, role-playing (RPG) gamers and all of us who think hatching magical pets is cool!

- by Zoomer
This Grimm's Hatchery game is so cute!! I loved hatching all those cute fantasy creatures. Grimm's Hatchery goes beyond cuteness though. Grimm's is a really good strategy and role-playing game. Loved it!!

- by MizzLizzie
Grimm's Hatchery is easy to learn and has a good tutorial. I thought I'd get bored with Grimm's Hatchery but WOW!!! Grimm's Hatchery has 3 difficulty levels, each with a different ending, lots of hidden "easter eggs" and a very addictive challenge. I've got to find more time to play. I'm totally addicted to Grimm's Hatchery!!!!

- by Almina
Related Games
If you like Grimm's Hatchery game, you may also like...