Hell's Kitchen
Can you take the heat of Hell's Kitchen? in addicting Hell's Kitchen Game
System Requirements
OS: Windows XP, Windows Vista
Memory: 256 MB
DirectX: 8.0 or later
CPU: P 1.0GHz
Video: 32MB Video Card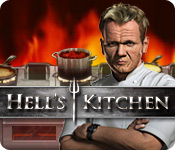 Hell's Kitchen Game Description
In Hell's Kitchen, Gordon Ramsay puts aspiring chefs through a culinary boot camp! Experience the show's pressure-cooker atmosphere as you advance through kitchen and dining room challenges. Success depends on how well you cook and serve meals, so master each time management test on your way to becoming a 5-star chef! You can even unlock 35 amazing recipes from the show to try at home! See if you have what it takes to beat the heat of Hell's Kitchen!
Hell's Kitchen full version features include:
Spicy Gordon Ramsay Commentary!
Play In The Kitchen And Dining Room!
Unlock 35 Recipes From The Show!
Can You Take The Heat?
Hell's Kitchen Game Customer Reviews
Overall this is an ok game. I wouldn't pay a whole lot for it. However, they did have the proper music and incorporates Gordon's sppech/quote. I feel there is no edge to finish, and you don't have a team to use. I tihnk the clients should be able tos ay something if the food was horrible or not. Also when preparing dessert, it's exactly like preparing the main courses. They do however have real recipes, which I believe you can print.

- by serinatie
This game is as good as it gets for a time management. Graphics and animation are awsome. The game becomes very addictive, fun and challenging as you complete your work days and weeks

- by jeff
In comparison to all the other cooking/time-management related games, this surely exceeds in everything. The graphics are quite life-like and the natty, fast-pasted gameplay it's all it takes to love this game, despite some graphic issues you might encounter.

- by reb_vodka_042099
Related Games
If you like Hell's Kitchen game, you may also like...