Fashion Dash
The DASH is back with custom-fit fun! in addicting Fashion Dash Game
System Requirements
OS: Windows XP, Windows Vista
Memory: 256 MB
CPU: P 1.2 GHz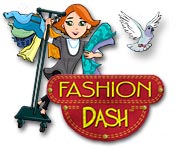 Fashion Dash Game Description
It's time to try on a whole new DASH! Step into the fashionable shoes of Coco, a young woman with dreams of creating a new fashion empire, one custom fit at a time! Flo joins in on the fun to encourage you along the way as you use all the chaining, seating, and customer appeasement skills you've learned in Diner Dash to please fashionistas young and old. Next time you find yourself with nothing cute in your closet, come try on a game that's guaranteed to fit!
Fashion Dash full version features include:
50 Fashionable Levels!
Play Story Or Endless Game Modes!
5 Upgradeable Store Locations!
10 All-New Customer Types!
Fashion Dash Game Customer Reviews
I loved playing this game! You have to put your customers at a dressing booth, give them a book so they can pick what they want, measure them and give the order to the seamstress to sew. They will order different things and sometimes they want a necklace, watch or another piece of jewelry to finish their new outfit. This game is a lot of fun to play. Keep the games coming!!!

- by hairbraid
Flo's friend Coco needs your help in designing clothes in Dinertown.There is alot of work to keeping the customers happy,from giving them magazines while they wait,take them to the to the fitting room and creating the garment,hoping the customer is pleased.The game points is similiar to Diner Dash games.From the chaining to colour bonuses.you can upgrade the shop with many accessories.So if you luv Diner Dash games,this is the game for you.It will keep you in stitches!...

- by Sharon5340
Give this game a chance. In the beginning it might seem "like all the others" but that changes after the second location. Hold on to you hats, you just might enjoy the ride!

- by suzyq5294
Related Games
If you like Fashion Dash game, you may also like...