Heroes of Hellas 3: Athens
Rebuild Athens in Heroes of Hellas 3! in addicting Heroes of Hellas 3: Athens Game
System Requirements
OS: Windows XP/Vista
CPU: 1.0 GHz
RAM: 1024 MB
DirectX: 8.0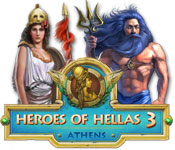 Heroes of Hellas 3: Athens Game Description
Rebuild Athens from the ashes of its destruction in Heroes of Hellas 3: Athens! Secure the help of the Heroes of Olympus as you battle an evil god in this incredible Match 3 game. Gather gold, meet the needs of a ravaged population, and search for legendary lockets that will allow you to summon the gods and appeal to them for help. Dive into this epic story and save the day in Heroes of Hellas 3: Athens!
Heroes of Hellas 3: Athens full version features include:
Recruit powerful gods
Defeat an evil being
Rebuild Athens!
Heroes of Hellas 3: Athens Game Customer Reviews
It is always worrying to look at the third in a series - don't always live up to their predecessor - but this one is glorious - beautiful animations and graphics - similar in type to version 2 but more sophisticated. Lovely game! Like no 2 will play this one again and again!

- by scottish_lady
Love the scenery and the old greek mythology. You get to make chains of at least 3 and gather points. Once the levels get harder you get help by collecting certain colors that go with certain Gods. Break chains and explode bombs is fun to do. In between you get to build a town that needs different buildings.You also play mini games by findig ancient things that belong to the Gods in a HOG. Music is very pleasant and goes with the Greek theme. If you liked the other games in this series you will like this one too.

- by Moabit
I wish all match 3 game play could be as good as Heroes of Hellas 3.There are several things I like about this game. First, the graphics are really beautiful. Second, it progressively gets harder and each puzzle is different. Thirdly, you want to save Athens and there little people. There is also an HO game every so often that isn't searching through a pile of junk. Your looking for pieces of an object that will get rid of the evil plaguing the city. It is super long, I have been playing at least 6 hours and I am still not done. If you like match 3 game you will absolutely love this game and if you have been disappointed with games being same ol same ol, check it out, it is so worth it.

- by twopandas
A great Match 3 game.. It has lots of action and story is a good one too. Like that it has different levels of play. Music suits the game and it's just a fun game and I imagine it will get a lot harder as I play. If you like Match 3 games this is a game to buy.

- by daisyduck352
Related Games
If you like Heroes of Hellas 3: Athens game, you may also like...