Tower of Elements
Defeat the evil Void army! in addicting Tower of Elements Game
System Requirements
OS: Windows XP/Windows Vista/Windows 7
CPU: 2.5 GHz
RAM: 1024 MB
DirectX: 9.0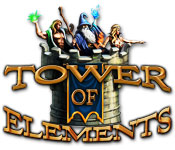 Tower of Elements Game Description
Defeat the Void army in the unique Match 3 game, Tower of Elements! An invading darkness has fallen upon the land. The Void army, a force dedicated to the obliteration of life and creation, stretches its hungry arms towards the innocent villagers. An ancient tower built in an age long-forgotten now stands as the first line of defense. Harness the power of fire, earth, air, and water to protect the kingdom and bring peace back to the land!
Tower of Elements full version features include:
Match 3 with strategic tower defense
10 chapter story in the world of Primordiax
Collectible monster cards
24 spells & 11 pieces of gear
Tower of Elements Game Customer Reviews
An awesomly good combo of match 3, rpg and strategy! Your m3 skills at last do more than bring points or build vilages (nothing bad about building, however). But rarely ifever have they been used as both weapon and funding for a tower defense game and the blend works very well. Enemies are kiled by the length and type of matches ad spells bought with the gold and levels you've collected. The story, while not innovative (so far# is well suited to the game theme. My only downer #and a slight one at that) is that often it's hard to find the smaller treasurers/spells left on the battlefield. But this may not hinder younger, stronger eyes and it certainly won't stop me from buying the game So if you're a m3 fan, rpg or siege player, try this one. You may find fun and challenge in whole new directions.

- by TeachumWell
This game takes the match games to a new level. It is all the fun of a match game, add in a good story, helpful tutorial, RPG elements for something completely new. It took only a few minutes of playing for me to be completely addicted. I am always looking forward to the next new spell or challenge.

- by silenc4me
I'm not a big match 3 fan, but I just love Tower Defense games, so I decided to try this out; I'm glad I did. Tower of Elements has the perfect blend of Match 3 and Tower Defense elements, as well as RPG elements (like spells, upgradable masteries, weapons, and a Bestiary for you to view monsters that you've gotten cards from in the game). The bosses in the game each unique in their own way; some just stand in the back and order hordes of minions to attack your tower, while others use their own minions to shield themselves from your attacks while dealing all the damage themselves. You make matches on the tower, to fire fireball-like projectiles at enemies, who are walking across the screen to attack you. When you make larger matches, you get different rewards like health and gold. The gear that you can purchase in the store is also helpful for dealing direct damage to the minions, slowing them down, or even stopping them in place for a short time. On top of that, there's this one piece of gear that you place on the board and when a fireball hits it, it spawns 5 fireballs: it's badass. I can't get enough of this game and suggest checking it out if any of the above sounds good to you. :)

- by collin brooks
This really is an addictive game. I don't typically like games of this sort, but I really am fascinated by this one. It's easy to learn, but there are a lot of different ways to go from the start. I started playing because I'd read about how the company was donating to help the hungry, and I'm glad I did. Give it a try, I really think you'll enjoy it!

- by SometimesKate
Related Games
If you like Tower of Elements game, you may also like...