Hollywood Tycoon
Build your movie studio and produce a blockbuster hit! in addicting Hollywood Tycoon Game
System Requirements
OS: Windows 98/ME/2000/XP/Vista
CPU: 800MHz or faster Processor
Memory: 256 MB RAM
DirectX 9.0 or better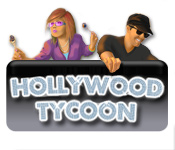 Hollywood Tycoon Game Description
Welcome to Hollywood Tycoon, a star-studded tycoon game where you call the shots. Uncle Irving Goldfish has died and has left you his movie studio, and its now in your hands to re-build and achieve Hollywood fame. Immerse yourself in the world behind the scenes of all the glitz and glamor as you build and manage your own Hollywood studio. Make vital decisions on which script to purchase, which actors to hire, and how much to invest in the hopes of making a BLOCKBUSTER hit!
Hollywood Tycoon full version features include:
Win and collect awards and achievements
Earn points and buy stuff to expand your character
Watch the blockbusters you create
Hollywood Tycoon Game Customer Reviews
I've never heard of Social Game Universe, but if this is any indication to their future, they got my vote. It's quite addicting once you get started, enough to keep the person yelling at you to come down for dinner waiting (for an hour).

- by fpcd115
Awesome game!!! i luv the style, concept, graphics, missions and features wish there was more space for all kinds of sets lo

- by ayang64
Hey scrpbkr, i found when playing this that it was easy to make enough money to upgrade at least one more writer and actor hut by not spamming movies, but trying to match actors and scripts with good sets! Try building a new york set, i found it matched the script types best. i really like how this game brought back memories of games i used to play when i was younger, and how there is really no other game out there for me to play. Definately worth the price

- by hoozman
Related Games
If you like Hollywood Tycoon game, you may also like...