Fish Tycoon
Breed beautiful and exotic fish in this unique aquarium-sim puzzler! in addicting Fish Tycoon Game
System Requirements
OS: Windows XP/Vista/7/8
CPU: 600 Mhz
DirectX: 7.0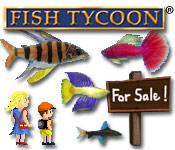 Fish Tycoon Game Description
Breed beautiful and exotic fish in this unique aquarium-sim puzzler. These are your fish and like real fish, you need to care for them. You can feed them, cure them if they get sick and make lots of babies! The game runs in true real time: new surprises every time you check back into your game. Buy supplies, ornaments and special chemicals for your virtual tank. Over 400 different species of fish to discover! Can you find the 7 Magic Fish?
Fish Tycoon full version features include:
Real-Time Virtual Aquarium Puzzler!
Buy Supplies And Other Specialties
400 Different Fish Species To Discover
Extremely Addictive And Unique!
Fish Tycoon Game Customer Reviews
My daughter loves to play and we have to fight over the computer to "check the fish". I wish there were more information about your environment, such as pH or temp. Or why some fish die, such as they only thrive in a level 2 or 3 environment. You can only guess why you lose fish. This game is very addicting. It's always changing and you can control what fish you breed. You can find the money making fish and keep breeding them all the while, mixing new breeds. You can put the time on 2x's to make them grow twice as fast. You can also stop time in case your going to be gone for a long time.

- by trchelps
Thought was very boring at the beginning but got stuck with it for 4 consecutive days; still am. Of course need to keep busy with other things while waiting for these babies to grow up; iIt takes for ever. Would prefer to have one more speed level and maybe some extra tank space. Am interested to see more developped versions of it, might worth buying it then.

- by gsglg
Loved it! Addicting, great graphics, a true Tycoon game for the ages!

- by dts_311
Related Games
If you like Fish Tycoon game, you may also like...