Paradise Beach
Build your very own beach resort! in addicting Paradise Beach Game
System Requirements
OS: Windows XP/Vista
CPU: 1.2 GHz
RAM: 512 MB
DirectX: 9.1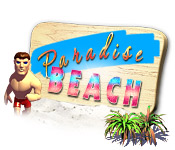 Paradise Beach Game Description
You have been selected to become the manager of some of the world`s leading beach resorts in Paradise Beach, a fun and exciting Strategy game! Create your dream retreat as you construct buildings, plant pretty foliage, and even design the layout of your peaceful getaways. Travel to different islands and use your imagination to keep your customers nice and relaxed as you plot the perfect Paradise Beach!
Paradise Beach full version features include:
Unique gameplay
Hidden Object minigames
Construct Paradise Beach!
Amazing Graphics
Paradise Beach Game Customer Reviews
This is another true building game, which allows you to place buildings where you want them and not in predesignated lots. You can be as creative as you like. This game can be played over and over!

- by adolia
I absoutley love this game and the Paradise Beach 2. Prefer the 2nd one over the original....but both are great. I love how you can click on the tourists and see what they are thinking, how you have to hire workers, and clean up trash, etc. Only thing that could make this better is a better story line, maybe tying it in to something 'real life'. Will be on the lookout for more of this type of interactive game. :) 2 thumbs up!

- by janeaustenfan
This is such a fun game! Basically, you travel to different islands building resorts. It is timed, but you can continue playing until you complete the tasks. It also features a sandbox mode for each island.

- by legolasarweng
This is a really good game, well worthy of purchasing. It has all the elements I usually look for in this genre: pretty graphics, lots of different things to build (more so than other casual building games, including lots of decoration items such as plants, fountains, etc), the option to continue playing after all the goals are achieved as well as continue or restart any individual level later on, and even replayability value with a great Sandbox mode on large scrollable maps.

The untimed mode is very welcome too as I like to play games to relax more than anything else -- this is not a very difficult or superclicky game at all (right up my alley). The employees do their jobs very well, which removes a lot of stress from the game as soon as you can afford hiring them, and also allows you to enjoy the exotic locales and spend some time decorating instead of running left and right pulling your hair :}

Really love it!

- by Ratatouille
GREAT way to `get away' by creating your own PARADISE BEACH RESORT, your way.I love simulation games and this was `WAY FUN! SIX different Islands to develop with Start up money and features to buy and add value to get positive customer reviews. You work for Higher Island levels and more things to buy,including employees like lifeguards,maintenance,and security guards who police and find lost items ( you get money!).

You can develop a mega resort with Restaurants,Thatched Bar, Upscale clothing store, Movie Theater and cool Jet ski Rental, all with sound effects! One Island has dead 'Pirates of Caribbean' coming on land from their ship and critiquing the Island ! LOVED the fact that there's a full SANDBOX for all 6 Islands so you can redo any Island in easy mode.

TRY IT, the cheapest vacation you'll have. You'll be addicted too. Hope there will be a Paradise Beach 2 because I will be there !!!

- by Jangal
Related Games
If you like Paradise Beach game, you may also like...