Jigsaws Galore
The ultimate Jigsaw puzzle game! in addicting Jigsaws Galore Game
System Requirements
OS: Windows XP/Vista/Win7/8
CPU: 600 Mhz
RAM: 128 MB
DirectX: 8.0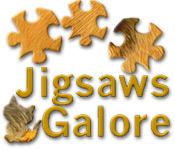 Jigsaws Galore Game Description
Put together the beautiful jigsaws included, or make your own new puzzles from photos or screen captures in Jigsaws Galore! Play through countless puzzles in the ultimate Jigsaw puzzle game. Choose the size, style, quantity, and even the thickness of pieces. Customize the color schemes and sounds, and create your own handy trays to separate pieces from one another.
Jigsaws Galore full version features include:
Beautiful gameplay
Tons of puzzles
The ultimate Jigsaw puzzle game!
Jigsaws Galore Game Customer Reviews
Over the years, I have tried several PC jigsaw puzzle games, but I always return to Jigsaws Galore. It is as near to working on a jigsaw puzzle at your kitchen table or card table as you could get except that you can sit comfortably in your chair, you can eat your bowl of ice cream without worrying about drips or stickiness, and you are safe from accidents that scatter your puzzle pieces from here to Kingdom come. You can rotate your pieces, even select the size and shape of your pieces. I like to start my puzzles by putting the straight outside edges together first. There is a special tray for this purpose and it is easy to select your edges in groups and then drop them in trays. If you have a special picture you think would make a great puzzle, this program allows for that. These are just a few of the options available that make this game far and above any other jigsaw game I've ever seen. I hope you enjoy it as much as I do.

- by Nizzy1
I love jigsaw and this is the best! You can modify number and shape of pieces, and you can even make great jigsaws with your own photos! I'm hooked

- by Rebr2009
This is a game only for those who love to put jigsaw puzzles together. I DO! You not only get to put these together and they have some very nice pics but you can also use your own pics to make your own puzzles. You can make it as hard or easy as you want. It is just like putting a real one together on the table but no mess and a much smaller area is used. Best one out there to date.

- by MyLonghair
I love puzzles of all kinds. This was more fun that I expected. There are lots of beautiful pictures to choose from, some challenging and some easy. One thing that confused me at first was that you can't rotate the pieces but you don't have to. They are in the correct position to begin with. I liked the little character pieces too - pieces shaped like dogs or t -shirts etc.

- by eesha
Related Games
If you like Jigsaws Galore game, you may also like...