World Riddles: Seven Wonders
Journey to ancient civilizations! in addicting World Riddles: Seven Wonders Game
System Requirements
OS: Windows XP/Vista
CPU: 600 Mhz
RAM: 256 MB
DirectX: 7.0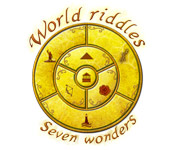 World Riddles: Seven Wonders Game Description
Visit the Seven Wonders of the World as you journey to ancient civilizations in World Riddles: Seven Wonders, a fun Puzzle game! Learn the history of the Seven Wonders of the World, as you take on perplexing puzzles and manic minigames. Explore the most stunning structures and monuments ever created and dive into an ancient world!
World Riddles: Seven Wonders full version features include:
Unique puzzles and minigames
Fascinating facts
Journey to ancient worlds!
World Riddles: Seven Wonders Game Customer Reviews
This is just like Gemsweeper, with each chapter beginning with a swap-tiles puzzle and 2 mini-games in each chapter. It's very long (I've been playing for hours and haven't finished it yet) with bonus chapters for each world. On the down side: They don't tell you what you've been drawing. At the end you get a black-on-yellow picture, but I sometimes still couldn't see it. But that is just a minor minus, so I still give it a 5 star.

- by Brendansoma
I love the first one - World Riddles Animals, so I am downloading the demo right now. I'll try it when I get home from work, and if there are no technical problems, it will be a definite purchase for me. I am a hidden object person, but a game like this is a great change of pace and loads of fun.

- by donnasm
I am very happy to see this game! I need a break from HOGS (oh no! I am getting really bored with them!), and this is just the ticket!

I agree with the other posters that this is similar to World Mosaics and Gem Sweeper--both of which I enjoy. I like that there are other types of puzzles incorporated as well!

The cons (also stated above)--lack of a grid, which helps with counting spaces, and the need to complete every square. I would also add that I really do not need to be rated!! Sometimes, I will walk away from my computer with the puzzle half done, and come back a few hours later. That will give me a terrible score!! I do not really care, but it will bug me.

Nonetheless, I am a big fan of these logic puzzles, and this is a buy for me!!

- by Waazzaa
Related Games
If you like World Riddles: Seven Wonders game, you may also like...