I SPY: Spooky Mansion Deluxe
A spooky mansion awaits you! in addicting I SPY: Spooky Mansion Deluxe Game
System Requirements
OS: Windows XP/Vista/7/8
CPU: 600 Mhz
RAM: 256 MB
DirectX: 7.1
Hard Drive: 292 MB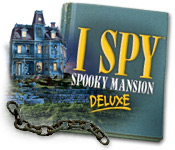 I SPY: Spooky Mansion Deluxe Game Description
Through the creaking gates, you'd best beware. A spooky mansion awaits. . . enter if you dare! Go on an adventurous journey while trapped inside a dark, mysterious house in I SPY Spooky Mansion Deluxe! Adjust the sound effects' volume to your preference as you explore the creepy rooms of the house using an intuitive hint system. Solve the Hidden Object puzzles and reveal thrilling secrets as you uncover different and surprising ways out of the house in this family friendly game.
I SPY: Spooky Mansion Deluxe full version features include:
Eerie atmosphere
Spooky puzzles
Escape the haunted mansion!
I SPY: Spooky Mansion Deluxe Game Customer Reviews
This game is great for kids because the rhymes are fun and the mansion atmosphere is thrilling but not overly scary. Older gamers will enjoy this game, too, especially if they owned I SPY books. The rhyming clues and enjoyable animations when you click on objects make this game memorable and very entertaining!

If you're looking for adventure, look no further than I SPY: Spooky Mansion Deluxe!

- by Nina
Hours and hours of fun to be had from I spy Spooky Mansion, excellent for all ages both young and old, the story line is fabulous and the mini games are great to, this game is a mixture of hidden objects, rhymes and puzzles all rolled in to one game, I love how this game speaks aloud the written text, meaning that none reading children under 5 can also enjoy playing. I love the fact that once you have completed the game it doesn't end there, you can continue the game THREE times before you really have completed the game giving you and the whole family HOURS of enjoyment. Absolutly AWESOME Game!

- by Do_U_Know_Me
I've played this game since I was a little girl. It was one of my favorite computer games growing up and I still even have the disk. When I'm babysitting someone that likes computer games I bring my laptop and play it with them. They love it too! The music and sound effects are great and entertaining. I also am a huge fan of the ISPY books as well so to see them come to life is just awesome! (ISPY spooky mansion was my favorite book of all time ;) )

- by MysticHaybin
I SPY Spooky Mansion is a great game for kids and adults alike and will provide hours of entertainment. The riddles and puzzles can be challenging, but are fun to solve and remain fresh even though each area is visited many times. Although the game was released around Halloween and has a spooky setting, it will be fun to play any time of the year.

- by Dan Keener
I bought this for a Xmas present for my 7 year old granddaughter. It has been keeping her entertained for several days now. She likes to pretend it is very scary. By taking more than one day to complete, it is worth the price. It makes her solve puzzles to help her brain power. I would recommend it for young children. I played it and it was challenging for me. I think kids have more imagination and find it easier than adults!

- by esaud
Related Games
If you like I SPY: Spooky Mansion Deluxe game, you may also like...