Nightmare Adventures: The Witch's Prison
Help Kiera Vale explore an asylum! in addicting Nightmare Adventures: The Witch's Prison Game
System Requirements
OS: Windows XP/Vista
CPU: 1.0 GHz
RAM: 512 MB
DirectX: 9.0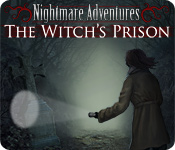 Nightmare Adventures: The Witch's Prison Game Description
Help Kiera Vale discover her ancestor's history as she explores Blackwater Asylum in Nightmare Adventures: The Witch's Prison! After receiving a mysterious letter from Alton Quinn, Kiera sets off to find out about her birth parents. Finding Blackwater Asylum to be in a state of disarray, Kiera begins exploring the grounds looking for information about her family, and Alton's mysterious secret. Help her discover the truth in this Hidden Object Puzzle Adventure game!
Nightmare Adventures: The Witch's Prison full version features include:
Eerie atmosphere
Gorgeous graphics
Explore Blackwater Asylum!
Nightmare Adventures: The Witch's Prison Game Customer Reviews
Prior to today, I was one of the 100s of folks who had tech issues w/this game, most notably the jiggly and slooooowwww moving cursor. But guess what? As of this AM, the developers and BFG have given us gamers a new "build" (update?) and the game is running flawlessly. Now on to my thoughts.

The game loads fast, the opening screen sets a standard for what it should look like, and the choices are exactly what I'd want. No voice acting, but the dialogue is perfect for the settings. I really liked the beginning hidden-object/explore/inventory/puzzle theme--to me, that set the mood for the rest of the game (of which I've enjoyed for about an hour). Yes, it's another "asylum" experience, yet I expect that this one will have some fun tossed in. The graphics are top-notch and the movement is smooth. Very little background music/sounds, but some folks like it that way.

Now that the dev's and BFG have got the kinks worked out, this one might be a classic--go for it!

- by elldee
Liked the demo, so I'm purchasing. Even if it's a dark-flavored game, it still has a bit of a sense of humor- like the comment on the fish, what pops up on the computer once you enter the password, some mild poking-fun at adventure game logic in the diary-type dealie... Ahh well, back to playing.

- by Tellah
Related Games
If you like Nightmare Adventures: The Witch's Prison game, you may also like...