Lamp of Aladdin
Travel to a world where dreams come true! in addicting Lamp of Aladdin Game
System Requirements
OS: Windows XP/Vista
CPU: 1.0 GHz
RAM: 256 MB
DirectX: 9.0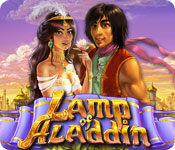 Lamp of Aladdin Game Description
Finding yourself in a real fairytale is every child's dream - a chance to feel the magic, to command the power of nature or even to perform heroic deeds. Catch a glimpse of a world where dreams come true and fairytales are real in Lamp of Aladdin, a unique Match 3 game! Revisit the story of Aladdin as he finds a magical lamp that makes his dreams a reality! Insidious traps, wild magic, and a cast of colorful characters await our heroes.
Lamp of Aladdin full version features include:
Hilarious characters
Intricate plot
Travel to a magical world!
Lamp of Aladdin Game Customer Reviews
I'm giving this one a 5. Very inventive mixture of mainly match-3 with some HOG, and building. Cute storyline, fairy tale with some humor. Music is appropriate, artwork is gorgeous. Probably aimed at children, but this 50+ player enjoyed it very much! Interesting power ups in the match-3 portion. I had beta'd this one and bought it as soon as it came out. Great, fun game.

- by catlynn54
I enjoyed playing Lamp of Aladdin. The music and graphics are great. Lamp of Aladdin is one of the best match 3 games around at the moment!

- by Mary L
Match 3 happens to be one of my favorite "fun" things to do. I play all types of games but am a little burned out on HOGs, so when I got my BFG newletter showing a new Match 3, I tried this one out. I played the full hour and found my self saying, "Oh" when it was over. I found it enchanting, if a little bit easy. I thought the animation to be a fresh change from just the normal match 3. The music was appropriate. The voice over was ok, I mean it is a fairy tale! The graphics were very well done. I'm probably going to add this to my collection of Match 3 games. Sometimes it's just great to have fun, laugh and relax. I have plenty of other games to challenge my gray matter.

- by DamaDeLuz
Related Games
If you like Lamp of Aladdin game, you may also like...