Tradewinds Caravans
Adventure awaits you in Tradewinds Caravans! in addicting Tradewinds Caravans Game
System Requirements
OS: Windows XP/Vista
Memory: 256 MB
CPU: P3 750
Video: 32MB Video Card
Internet: Active Internet Connection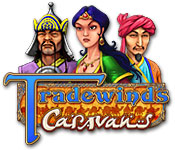 Tradewinds Caravans Game Description
Travel along the bustling and dangerous Silk Road trading exotic goods and engaging in real-time battles as you build the most powerful trading caravan the world has ever seen! Embark on challenging quests, hire fiercely loyal warriors and explore a long-lost world teeming with tantalizing secrets, hidden cities and legends of mythical creatures. With all-new weapons, character-specific powers and signature Tradewinds humor, your adventure begins today - in Tradewinds Caravans!
Tradewinds Caravans full version features include:
Build A Powerful Trading Caravan!
6 Unique Characters!
Dozens Of Individual Storylines!
All-new Weapons And Character-Specific Powers!
Tradewinds Caravans Game Customer Reviews
I loved this game! I played one of the other tradewinds games I thought it was way too demanding. This was excellent. The dialogue was funny, the battles weren't impossible, and I didn't have to have 8 different save points just to make it through the game! Lots of fun for adventure gamers!

- by jmday
This is the first Tradewinds game I have played and I love it! It is s a little bit tycoon and a little bit RPG. While the game is certainly easy enough for older kids, there is certainly a lot of humour running through the dialogue that adults will enjoy. During the gameplay you buy and sell merchandise at various markets while you maintain your caravan buy buying and selling weapons, pack animals and hired help. You find various people, perform heroic tasks for them, and try to keep your soldiers alive through various battles. Highly entertaining!

- by mycathouse
This game beats all others in the tradewinds series in all its aspects....the new experience of battling bandits and travelling by road is exciting. There are more kinds of goods to trade with and strategy is good. The music is pretty catchy and graphics are great. There are a lot of choices you make that affects the future of your character...almost rpg-style!! The story is interesting. This game is really good and i would not think twice before buying it..

- by intellect72scifi
Related Games
If you like Tradewinds Caravans game, you may also like...