Luxor: Amun Rising
Glory and adventure await in this all-new ball-shooting adventure! in addicting Luxor: Amun Rising Game
System Requirements
OS: Windows 2000/XP/Vista
Memory: 128 MB
DirectX: 7.0
Sound: DirectX compatible Sound Card
CPU: P2 300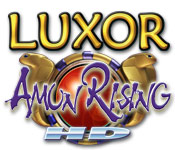 Luxor: Amun Rising Game Description
Glory and adventure await as you return to save ancient Egypt from certain doom! In the next episode of the smash Luxor series, you must defeat the princes of Megiddo before they overthrow the pharaoh and plunge the two lands into chaos! The challenge will not be easy as you battle through 88 all-new levels and use your mystical winged scarab to destroy the approaching colored spheres. Stop them all before they can reach the pyramids at the ends of the paths... or all of Egypt is doomed!
Luxor: Amun Rising full version features include:
Ball-Shooting Action In Ancient Egypt!
88 Explosive New Levels!
All New Quest Map!
Amazing New Scorpion Power-Up!
Luxor: Amun Rising Game Customer Reviews
The game is like the original Luxor with some changes: 1)There is a new power-up the scorpion 2)The stages are looks graphically better 3)And you can choose your dificulty level if you planning to buy a Luxor game I recommend to buy this game

- by chrize
I've spent many a nights trying to shut down this game. This is a title you just want to keep playing and playing. Great sound, graphics, levels... it's well worth the price. I've seen my son enhance his hand eye coordination and logical thinking thanks to Luxor. I've seen my wife ACTUALLY sit down and play a computer game... thanks to LUXOR! I've lost countless hours of sleep... thanks to LUXOR! Many have tried to immitate it... but LUXOR is IT!

- by dbolivar
Couldn't stop playing, played for the full 1 hour trial and could not stop. Have the regular Luxor cd, wish I could update it with this on it, I would never quit playing.

- by kgc75@snet.net
Related Games
If you like Luxor: Amun Rising game, you may also like...