Mahjong Roadshow
Embark on and antique adventure in Mahjong Roadshow! in addicting Mahjong Roadshow Game
System Requirements
OS: Windows 2000, Windows XP, Windows Vista
Memory: 128 MB
DirectX: 7.0 or later
CPU: P3 700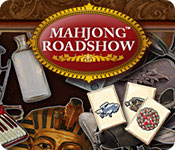 Mahjong Roadshow Game Description
In Mahjong Roadshow, you'll make your way from garage sales to the auction block in search of priceless treasures from antiquity! Leave no tile unturned as you sift through rooms full of everyday objects to find the most valuable objects on earth! Is it a 12th century original or a 20th century replica? Is it an invaluable artifact or a worthless trinket? Is it the genuine article or a clever counterfeit? The only way to find out is to play Mahjong Roadshow!
Mahjong Roadshow full version features include:
Find The Priceless Collections!
350 Different Tiles!
7 Amazing Locations!
Community Based Level Editor!
Mahjong Roadshow Game Customer Reviews
EXCELLENT!!!!! Another WINNER!!!! Mahjongg games are my all time favorite and this is no exception. What fun this is to auction and do other things that you do at an auction. The day you stop making mahjongg games is the day I quit playing on the computer. Keep these games coming!!

- by twogrand
Really enjoyed this game. Finding antiques and playing mahjong. A twist to the original. Alot of fun.

- by avolonakis
Mahjong Roadshow combines the ancient game of Mahjong with an Antiques Roadshow search for priceless antiques and artifacts. In Mahjong Roadhow you travel the back roads of seven locations in the USA searching for valuable antiques. Your aim is to be the grand winner at an upcoming antique auction. Every mahjong tile match you make in Mahjong Roadshow earns you money. You can spend your money on Mahjong Roadshow bonuses to help you create the most valuable antique collection. Mahjong Roadshow immerses you into the world of antique collecting. The graphics and period music in Mahjong Road add to the effect. Mahjong Roadshow is and innovative mahjong game with a wonderful antique theme.

- by Zoomer
Related Games
If you like Mahjong Roadshow game, you may also like...