Mall-a-Palooza
Build your mall up from empty space to thriving business! in addicting Mall-a-Palooza Game
System Requirements
OS: Windows XP/Vista
CPU: 1GHz
RAM: 1 GB
Video: 128 MB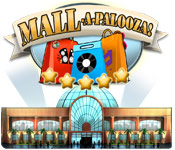 Mall-a-Palooza Game Description
Transform an empty mall into a bustling shopping mecca in Mall-a-Palooza! A business opportunity awaits you in the form of a large, renovated mall space. The only problem is, the space must be filled with stores in order to entice customers to shop there. Success won't come easy as products break, stores get robbed, and a giant mall doesnt just clean itself you know As you overcome the challenges, you'll be rewarded with new opportunities to build bigger and better shopping malls. Enjoy colorful characters, exciting time-management gameplay, and 8 locations of ever-expanding bliss.
Mall-a-Palooza full version features include:
8 Locations of ever expanding shopping bliss
4 level per location, with a sandbox for those who complete all levels in a location.
Colorful characters and situations
Build, sell, demolish, and improve. Theaters, eateries, special events, plus much, much more, all for your building pleasure.
Mall-a-Palooza Game Customer Reviews
Loved it! I agree that this isn't the typical "building game", it feels much more involved with many different things to do. It starts easy enough but gets pretty challenging in the later levels. New features keep appearing, and the malls get considerably bigger. The more I play the harder it is to stop! What more can I say... This was an easy purchase for me, I highly recommend it!

- by angie968
i think that this game totally rocks it is cool and i wish i could do that in real life anyway you should try this game if you really really love malls you would love this game.

- by Anonymous
Awesome game! Very addictive! Love to play with different strategies, quite challenging.

- by Anonymous
Related Games
If you like Mall-a-Palooza game, you may also like...