Megaplex Madness: Summer Blockbuster
Help put together 5 different theaters! in addicting Megaplex Madness: Summer Blockbuster Game
System Requirements
OS: Windows XP/Windows Vista/Windows 7
CPU: 800 Mhz
RAM: 256 MB
DirectX: 8.1
Hard Drive: 126 MB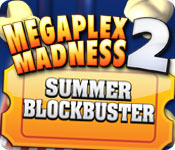 Megaplex Madness: Summer Blockbuster Game Description
Help put together five different theaters and create your very own Megaplex! Each of these theaters has its own unique theme, complete with decorations and catchy music. Use your profits to upgrade each cinema, and keep your customers happy in this exciting Time Management game. Take a break form the action and play addicting minigames in the arcade. Predict which customers will arrive, keep a cool head, and survive Megaplex Mania: Summer Blockbuster !
Megaplex Madness: Summer Blockbuster full version features include:
Classic fast-paced gameplay
Unlock unique upgrades
Megaplex Madness: Summer Blockbuster Game Customer Reviews
This is a hectic HECTIC game, makes me very nervous when I play ! I liked the first one very much, but this one is too challenging for me. I'm not hooked up, because I'm deliberately giving a break after every level. 5 stars because there is nothing to complain. An excellent TM for people who have a lot of patience, nerves and motor skills :D

- by tekirpitir
Yes,the first Megaplex Madness is good but a little too much for my pc to handle for it stuttered but I didn't let that stop me from playing it. Now, Megaplex Madness:Summer Blockbuster is higher quality, improved navigation, pc handled it with ease, and souped up with great goals, options,and upgrades! A very reputable,invigorating time management! game.

- by littleone2008
An excellent time management game with enough longevity and variety to keep you busy and satisfied. I liked the first Megaplex Madness but this one is twice as good..There are a lot of improvements concerning production values as well as new arcade games and new gameplay twists.

- by carfixer1957
Related Games
If you like Megaplex Madness: Summer Blockbuster game, you may also like...