Dreamland
Explore the abandoned amusement park! in addicting Dreamland Game
System Requirements
OS: Windows XP/Vista/8
CPU: 1.0 GHz
RAM: 512 MB
DirectX: 9.0
Hard Drive: 236 MB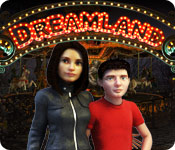 Dreamland Game Description
Welcome to Dreamland, an old abandoned amusement park! It is full of dangerous traps and old run-down rides not suitable for children. It also contains a terrible secret... There is an evil dwarf that brightens up his miserable days by collecting the souls of those who dare enter the neglected park. Explore the rundown park and defeat the dwarf once and for all in this fun Hidden Object Puzzle Adventure game!
Dreamland full version features include:
Incredible storyline
Spooky atmosphere
Explore the amusement park!
Dreamland Game Customer Reviews
This is an excellent HO game. Storyline is interesting, doesn't bore you. Graphics are clear and sometimes a few items can be hard to locate. Hint recharges fairly quick. Map, journal, and tasks all help in getting through each task. Mini games are fun!! This game is put together very well. I started and couldn't stop!! Very addicting. Even the sound isnt too bad! This is definately a keeper. Overall, 2 THUMBS UP. Enjoy all.

- by karla54
I am going to buy this one; but will wait until we have a walkthrough available. (I do not often use the walkthroughs, but like to get an idea of the length of the game.) The graphics are clear, the story is rather intriguing (a bit like the latest Puppetshow), objects are cleverly hidden, mini-games (at least in the demo) are fun, and have good instructions and a skip button, the music is good, and the voice acting for the dwarf is amusing as well as very good. Kudos to the developers for providing a map that enables you to simply click on an area that you have "unlocked" to get to it. (Thank you, developers, for eliminating the need to spend five minutes retracing steps each time you need or want to revisit a location.) The diary where information is added as you uncover clues is quite useful and helpful. There is also a subtle little note displayed soon after you begin that tells you that you might want to revisit areas. The overall construction of the game requires your little gray cells to be active; yet it is fun and entertaining. This is really quite a nice game, with a lot to offer.

- by thistle809
This is probably my favorite game so far this year! Love the graphics. Also love the various hints available using the yellow circles on the map, the task list, and the hint system that will take you directly to where you need to go. The H.O. scenes are not too easy, or ridiculously difficult. It's unfortunate that some had technical issues with picking up objects. I played the game through three times without any problems at all. My only complaint would be that in the moon scene, there is a marble there that is completely covered once you place the rune in the pillar.

- by gmmace
Fantastic adventure game. Your brother ventured into this creepy place called Dreamland. You go around finding clues to his disappearance. Get tickets from the big wheel, find hidden unlocks to games, and piece together many puzzles. Warning, the skip puzzle button doesn't work if you have the solution within your journal. The map makes it easy to travel through the carnival. If you like psychological thrillers, this is for you.

- by ppvjeep
One of the most fun HOG I've played in a while. It wasn't too hard or too easy..just right I'd say. I loved exploring the empty theme park and doing HO scenes and mini games to collect items needed throughout the game. I also loved the interactive map and hint feature. If you got stuck on where you should go next and clicked the hint button it would highlight the location to travel to and the item to use there...one click will take you straight there. The length of the game was great and I felt like I got my money's worth. Awesome! Hope to see another one like this!

- by Jem888
Related Games
If you like Dreamland game, you may also like...