Miriel the Magical Merchant
Enter the magical world of Miriel and help her to fulfill her dream! in addicting Miriel the Magical Merchant Game
System Requirements
OS: Windows 2000, Windows XP, Windows Vista
Memory: 128 MB
DirectX: 5.0 or later
CPU: P800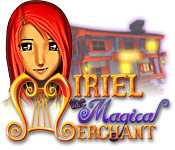 Miriel the Magical Merchant Game Description
Meet Miriel - a shy but hardworking and earnest young woman who has the gift of magic. The ordinary life of this extraordinary girl is about to suddenly change as she gets the message she has been waiting on for months! Enter the magical world of Miriel and help her to fulfill her dreams. Prepare delicious bread and cakes to keep eager customers satisfied while building a general store empire throughout the magical Kingdom. Miriel needs your help!
Miriel the Magical Merchant full version features include:
The Fate Of Miriel Is In Your Hands!
More Than 60 Levels In 6 Worlds!
Interactive Branching Storyline!
Unlock 19 Amazing Recipes!
Miriel the Magical Merchant Game Customer Reviews
Enjoyed the game, great graphics, storyline and characters. Mini-games were fun too and determined which upgrades I could choose. I also liked that during the story, questions would be posed to me and I had the option to choose my response from two or three choices. Definitely recommended for those who are tired of the usual restaurant games. Miriel serves monks, "blue bloods", kids, druids, etc. Overall, a great game.

- by kylakitty
I found this to be a fun time management game that reminds me a lot of Mystic Inn. (Where is the sequel to that, Bigfish? Oops, I forgot, you don't do time management games any longer..) anyhow, Miriel is a great game if you like TM games and it has a medieval feel to it..I would give it 5 stars but I had one major gripe:You cannot replay levels to earn an expert score. Other than that, thumbs up!

- by carfixer1957
This game was fun and different from other time management games. I really enjoyed the little magical feel to it, as well as the storyline that has a sort of "Choose your own adventure" feel. As the storyline progresses, you can become either good, or evil, or somewhere in between. Depending on what you choose, the outcome of the story will change. The characters are neat, and the graphics are rather pretty. One thing that is very cool is that you can actually unlock real recipes to use for real life! I thought it was very neat that you could make the same things to eat in real life as they are serving in the game! It's definitely worth a try if you like time-management games at all.

- by Trynitron
Related Games
If you like Miriel the Magical Merchant game, you may also like...