Diaper Dash
More cute, cuddly babies than you will know what to do with! in addicting Diaper Dash Game
System Requirements
Windows Vista, XP
Pentium IV 1.2 Ghz processor or faster
256 MB RAM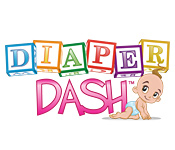 Diaper Dash Game Description
It's a girl! And a boy! In fact, it's every adorable baby in DinerTown, all bundled up for you to lavish with love. Keep these DinerTown darlings cooing by helping out Wilson, who's in over his head running the local daycare. Now's the time to make a play date with the game that's literally crawling with fun!
Diaper Dash full version features include:
50 baby-filled levels of cuteness
Tend to your babies' every need with five priceless inventions beyond every mother's dream
Over 20 upgrades to buy
All your favorite DinerTown friends-plus their adorable babies!
Diaper Dash Game Customer Reviews
This game is cute. VERY VERY fun. If you liked Diner Dash you will love this game.

- by txhoneypot
This a great game!! The levels keep you busy with all the different babies. I thought the babies were very cute and very active. I love the switching bonuses and the upgrades. WARNING: YOU WILL GET ADDICTED!! The inventions were a great idea, it made me determined to keep playing so I could see what the invention would do. Great game PF!! Hope you have a Diaper Dash 2 in the works!!!

- by nikkiturp
A pretty good game. Playfirst has its own identity and it keeps with it. It is easy to play but fast paced and before you know it, you're way ahead of expert so ya might want to buy all the upgrades you can get 'cause you are going to need them. Just like "Cooking Dash", easy but since I only played the demo of "Diaper Dash", I can only imagine it'll get more hectic towards the end. I did have to take a break in the hour but the game drew me back again. The only gripe I have is the little flags that point out if there was a girl or boy in that place to get extra points.

- by littleone2008
Related Games
If you like Diaper Dash game, you may also like...