Go-Go Gourmet
Saute your way to gastronomic greatness! in addicting Go-Go Gourmet Game
System Requirements
OS: Windows XP, Windows Vista
Memory: 256 MB
DirectX: 8.0 or later
CPU: P800
3Video: 32MB Video Card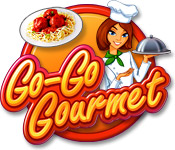 Go-Go Gourmet Game Description
Go-Go Gourmet, an addictive Hidden Object and Time Management game rolled into one, puts you in the heat of the kitchen. Take the role of Ginger, who seeks master chef training with the nuttiest restaurateurs in town. Fulfill customer orders by searching for ingredients in a food strewn kitchen, slice, fry, boil or bake the ingredients accordingly, and serve the dishes as quickly as possible.
Go-Go Gourmet full version features include:
Hidden Object And Time Management Together!
More Than 25 Upgrades!
7 Uniquely Themed Restaurants!
Unlock 122 Mouth-Watering Menu Items!
Go-Go Gourmet Game Customer Reviews
This game is so new and exciting. I was taken by surprise when it was under Time Management, but was also a "Find it" game. It was a wonderful twist. The graphics are of medium-high quality. The colors are perfect for the food. I love the story line. It really gets you into the game. The different restraunts you go to too "hone" your culinary skills are soooo cute!!. Its definatly on the more challenging end of Time Management games, but man is it fun....

- by dorkqueen
...Boy, I wish this feeling would carry over into real life. Cooking in Go Go Gourmet almost makes me want to return to cooking real meals for the family. Thats almost something about actually chopping and shopping for fresh ingredients doesnt have the appeal of doing it virtually.

The ingredients of good music, high addiction factor, sharp graphics, and original concept make an award-winning recipe in Go Go Gourmet. Please, sir developer, may I have some more?

We give Go Go Gourmet a 5/5 diamond rating

- by Meryl
i loved this game it kept me entertained for ages .the fact that you have to really concentrate to find the items for each recipe and then cook it in the right sequence was really unique i havent see any other game to compare to the detail in go go gourmet i will be buying this game for definite the graphics are excellent in fact there is nothing bad i can say about this game i recommend it to any fans of diner dash its like one step further than diner dash have gone in my opinion this game is brilliant try it for yourself and see i guarantee you wont be disappointed i definitely wasnt

- by jasam
Related Games
If you like Go-Go Gourmet game, you may also like...