Zombie Shooter
Take part in the great battle to rescue humanity! in addicting Zombie Shooter Game
System Requirements
OS: Windows XP/Vista/7/8
Memory: 256 MB
CPU: P3 800
DirectX: 8.1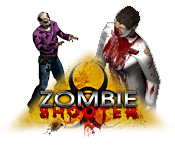 Zombie Shooter Game Description
Where is the line between life and death? How far will scientists go to try and understand this? The human race is in danger again. This time, scientists could not stop the imminent threat and ended up becoming monsters themselves! Crowds of zombies fill the secret research base and the dreadful contagion is about to spread across the earth. It's the last chance to save the earth from total annihilation! Take part in the great battle to rescue humanity in Zombie Shooter!
Zombie Shooter full version features include:
Fight Through Contaminated Hordes!
Improve Your Character's Skills!
10 Different Weapons At Your Disposal!
Three Amazing Game Modes!
Zombie Shooter Game Customer Reviews
This game is the best to let off some steam after playing big name games like COD:4. I must say that shooting hordes of undead has to be one of the most amazing things ever! Gameplay is excellent as well as the graphics for this 3rd person corner cam action shooter. Can customize your character to your liking in the kind of weapons you use and the abilities you want to upgrade. Overall, awesome game!

- by cfultz
thanks a lot this game is very very very nice i liked it so much i love games like this with blood too, and i am going to try alien shooter. thanks a lot

- by tarek001
Graphics are not great, but they are decent enough. Its a fun game with a good variety of weapons. Reminds me of the Hunter the Reckoning series of video games. Not alot of story to it, just a mindless shooter. Its a difficult game but I like using the cheats to help me survive.

- by smoovasbutter
Related Games
If you like Zombie Shooter game, you may also like...