Murder Island: Secret of Tantalus
Your invitation to Murder Island awaits! in addicting Murder Island: Secret of Tantalus Game
System Requirements
OS: Windows XP/Vista
CPU: 1.2 GHz
RAM: 256 MB
DirectX: 9.0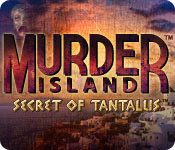 Murder Island: Secret of Tantalus Game Description
Welcome to a world of danger and suspense in Murder Island: Secret of Tantalus, a thrilling Hidden Object Adventure game! You're invited to a gorgeous, isolated Greek island for your high school reunion. Upon arrival, you notice that something isn't right. One by one, your former classmates get killed-all the murders mirroring tragic Greek myths. Discover clues, locate missing objects, and solve dangerously perplexing puzzles to avoid being next on the mysterious killer's list!
Murder Island: Secret of Tantalus full version features include:
Discover who's behind the killings
Explore over 30 areas on the exotic island!
Examine challenging hidden-object scenes
Decipher complex puzzles
Will you be next on the mysterious killer's list?
Murder Island: Secret of Tantalus Game Customer Reviews
An interesting Hidden Object/Puzzle/Adventure game that incorporates a mystery into the story line. The story line was fun and kept you guessing. The graphics were clear and the objects fairly easy to find. NOT a standard HOG. You have a lot of moving back and forth from scene to scene to solve the puzzles/mystery and move the story along. Not a difficult game but keeps your interest. OVerall a good game and worth a try if you like puzzles to solve with your HOG. When you play these games it is helpful to remember that there is no reason to be stuck in a game. There are numerous sites with free access to game walkthroughs. If you are really stuck, just do a search and find one to help you out. No need to be frustrated and not complete a game when there is lots of help out there!

- by dejadina
Loved this game! You should be aware that this one is VERY involved and you travel back & forth revisiting locations on the island & its surroundings. However the developers have provided a map that allows you to jump from one place to another instead of constantly retracing your steps. That was a big frustration eliminator for me. The map also shows what areas might require another look and as you collect green tiles throughout the game it also fills in triangles in a star with facts on mythology and modern day sayings. Due to the fact that there are murders beings committed on the island I'm not sure this one can be classified as Kid Friendly but as always parents should make that final determination. The scenes are beautifully drawn which helps in finding items needed to progress in the game. It is rather long because it is so involved but I didn't find myself getting bored. It's worth taking a look at!

- by PipCat
Finally a game without witches or creepy mansions or dark screens! I enjoyed this game - played it straight through which is something that I rarely do these days. I figured out where they were heading with the mystery well before the reveal, but that didn't diminish the fun for me. I did find a couple of the mini-games confusing at first, particularly the lock on the storage area puzzle, but then I realized that there were very subtle clues to the solution right in front of me. The game required more thinking when it came to the puzzles, than many of the ones I've played recently and I like that! I had beta tested this game back in September and I was looking forward to its release. It didn't disappoint me.

- by pjries
Related Games
If you like Murder Island: Secret of Tantalus game, you may also like...