Yard Sale Hidden Treasures: Sunnyville
Search for hidden swag in Sunnyville. in addicting Yard Sale Hidden Treasures: Sunnyville Game
System Requirements
OS: Windows XP/Vista
CPU: 800 Mhz
RAM: 256 MB
DirectX: 8.1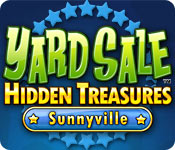 Yard Sale Hidden Treasures: Sunnyville Game Description
Spruce up your dream home and see it featured as a magazine cover story. As Sunnyville's newest resident, the town is counting on you to beat your snooty neighbor Atia in the Superstar Homes Magazine Contest. Hit the local yard sales and search for hidden swag in Sunnyville's most eccentric homes. Use your crafting expertise to make divine decor out of everyday items in Yard Sale Hidden Treasures: Sunnyville.
Yard Sale Hidden Treasures: Sunnyville full version features include:
Hidden Object hunt
Creative projects
Furnish your dream home
Yard Sale Hidden Treasures: Sunnyville Game Customer Reviews
I love this game! You visit fun characters in their fitting homes to find treasures you need to posh up your home for a competition. Plenty of seek and find fun! Some objects are not easy to find, but the hints work very well. You can play timed or untimed. In Career Mode you have to fix up treasures to decorate your rooms with between the HOG levels. If you want to earn gold stars, you have to work quickly. I like that, too, although I'm not very quick with the mouse. I can always replay a level to gain a gold star. Once you've completed Career Mode, you unlock the Sunnyville Tour, a Blitz Mode. I've played this game again and again in both modes.

- by origami-san
I loved this game! It was light-hearted and fun and was actually more challenging than I expected! It was a nice change to be able to find and repurposed various items and it even made me wonder if I could do that in real life! I recommend this game to anyone who wants a cheery game to try-out.

- by RIColeman
This game was totally fun. The originality of you actually putting the items together was really like real life. The concept was You and your neighbors are in a contest to get the best looking house into this magazine. So you want to makeover all the rooms in your house. You go to the yard sales and get the items you need and then the mini games are you putting the items together and reassembling your rooms. Fun game 10/10. Sassy (Sue)

- by sassylassie
One of the best hidden treasure games I've ever played. Loved the excentric "homes" and the characters were great. I think I'm in love with Sailor Bob. The bonus of fixing up items for my new home keep it from being repetitive. Only negative - can't get the music out of my head.

- by Brgunda
this was an amazing game - I played in relaxed mode as I didn't feel like dealing with the timer but I loved it - the scenes were all very unique and individualized and being able to assemble the crafts was a lot o fun and a bit of a different kind of challenge that made the game even more special and entertaining - I would recommend this to any one of any age group.

- by kaerbaer
Related Games
If you like Yard Sale Hidden Treasures: Sunnyville game, you may also like...