Tales of Lagoona 2: Peril at Poseidon Park
Welcome back to the undersea world of Lagoona! in addicting Tales of Lagoona 2: Peril at Poseidon Park Game
System Requirements
OS: Windows XP/Windows Vista/Windows 7/Windows 8
CPU: 1.0 GHz
RAM: 1024 MB
DirectX: 9.0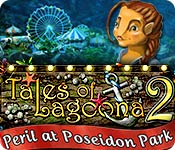 Tales of Lagoona 2: Peril at Poseidon Park Game Description
Welcome back to the undersea world of Lagoona! Poseidon Park is in trouble. Mayor Peabody has shut it down until repairs are made, and Leona is desperate to save her grandparent's park. Join a quirky cast of characters as you set out on another Hidden Object journey in Lagoona! Take quests from the townsfolk, solve over 160 puzzles, and discover fascinating secrets of the seas, as you explore beautiful Poseidon Park.
Tales of Lagoona 2: Peril at Poseidon Park full version features include:
Gorgeous HD visuals!
All new quest system!
Collect food to feed your sea ponies
Solve over 160 puzzles
Unlock over 60 trophies and track your progress
Tales of Lagoona 2: Peril at Poseidon Park Game Customer Reviews
I'm not a huge Hidden Object fan - but this one is just so well developed, with games-within-the-games - You'll be in a HO scene but need to keep your eye out for special objects to fulfill quests - and you can also click on puzzle pieces which bring you into various subpuzzles. Some of these subpuzzles are quite challenging, some very simple, and some are arcade-style. This is one of those games where you get to renovate using your earnings, and it's a legit one where you actually get to choose between three different styles for each major renovation. It's a LONG game - and there are only about 30 different HO backgrounds that you keep coming back to, but that actually makes the game better, since you start to remember where things are. This is one of the best I've seen of this genre.

- by caradea
I loved it! Of course, I like the first Lagoona game as well. These games are totally mindless and enjoyable; no dark story or adventure, just simple innocent fun. There are many different things to find: gems, food, map pieces and quest items, as well as outline and list items, in each scene. Also, there are a lot of puzzles, which you access in the HO scene, some of them quite challenging and all very, very cute. The artwork is very good and the sound is pleasant. The tetris-like means of keeping track of your items is also new and fun. It looks like there will be a significant number of places to search and restore, with choices for rebuilding, as usual. So, if you would like a break from the serious sombre stuff, I heartily recommend this one!

- by donadriedger
This is the best hidden object game I've ever played. The sheer variety of items, puzzles, and play styles in every scene is staggering. I enjoyed fixing up the theme park, and the funny characters and storyline is clever enough for me to enjoy without feeling like it isn't family friendly.

- by dspaulding
What a game! At first I didn't think I would like it, I don't like undersea games, but I love amusement parks. Well, you really can't tell you're undersea, but it does look like a very large amusement park with tons to do! The h.o. scenes are interactive and have hidden things in them; gems, puzzle pieces, (play puzzle to unlock a new scene), food, quest items, maybe more. There are 3 custom cursors to choose from, 8 music tracks, auto advance dialogue (you don't have to click to move on), performance mode (improves game on older computers), and other options. You click and drag to view the park. There are also bonuses to be had; wall papers, screen savers, music, stats, bonus goals. You use money you earn to upgrade the park (3 choices of an upgrade), and gems to play the puzzle games. I can't believe how much this simple looking game has to offer! Family friendly, fun, good graphics, good colors, and story line is about upgrading/saving the park for your grandfather. Voice overs are o.k., there is quite a bit of dialogue but you can skip it. I think all of us in my home will really enjoy this game for all ages. I hope you will too!

- by dhoneykids3
Related Games
If you like Tales of Lagoona 2: Peril at Poseidon Park game, you may also like...