My Tribe
Create a perfect island paradise with My Tribe! in addicting My Tribe Game
System Requirements
OS: Windows XP/Vista/7/8
Memory: 256 MB
CPU: P600
DirectX: 7.0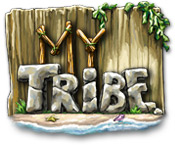 My Tribe Game Description
Shipwrecked on a beautiful tropical island, your brave little tribespeople must build a new home! With your guidance, the tribe will uncover mysterious secrets, research new technologies, design their own clothes, plant trees and flowers, construct massive wonders and more! Come back often to feed your tribe, clothe them, and look after the babies and children! There's so much to do and all the time in the world to do it with My Tribe!
My Tribe full version features include:
Design Your Own Paradise!
Billions Of Islands To Choose From!
More Than 40 Powerful Potions To Research!
So Much To Do In My Tribe!
My Tribe Game Customer Reviews
...I can say that My Tribe is way better than the competition. Graphics are clean and I just love the special effects of rain and random flying birds providing a little source of entertainment. The menu interface can be daunting at first, but after playing for a while, you will notice that it's actually very easy to navigate and user-friendly too to avoid unnecessary confusion.

This is definitely one dynamic game and there are tons of surprises awaiting the player whenever the tribe progresses and evolves. Research, discovery and even exploration are all part of the game experience, and mysteries abound to be analyzed too, so I guess these mysteries can be a useful objective in place of those found in most linear games.

- by Casualicious
When a game as successful as Virtual Villagers comes along, there will naturally be a host of similar titles following in its wake. My Tribe rides the wave of the village sim but is careful to tread its own innovative path while keeping the core concept in familiar territory. The number of islands you can inhabit is staggering (numbering in the billions), and the potions system really sets the game apart from Virtual Villager knockoffs. Grubby Games is an experienced studio and covered all the main bases a casual game should touch upon, making the game easy to get into, easy to come back to, and rewarding no matter how long or short you play.

... however, My Tribe is very compelling. I have spent many hours in-game, and in the end, it was well worth the price of admission. If you start playing you will find yourself coming back to it again and again, even if you don't need to yet. You'll set it on Fast overnight and check it nervously in the morning to see if your Lunar Tower has finished. In the end, I had to stop playing not because I'd run out of things to do, but because I had too many other things to do... and had been neglecting them while I played

- by FunnyMan
Pros: Many islands to explore. Great graphics and smooth animation. Runs in real-time even after My Tribe gameturning off the PC. Unique clothes to design. Experience tribe's emotions
Cons: Minor innovations. Similar to Virtual Villagers.

... My Tribe is a great simulation game in which it is difficult to make much progress in just one sitting, but which manages to stay interesting for many hours. It is a lot of fun to manage the population, teach them new abilities and explore the island. With exciting levels to walk through, 25 unique trophies to earn and engaging game play to enjoy, My Tribe is an exciting adventure for the whole family!

- by Awem
Related Games
If you like My Tribe game, you may also like...