Passport to Perfume
Success never smelled so sweet! in addicting Passport to Perfume Game
System Requirements
Windows XP/Vista
Pentium IV 1.2 Ghz processor or faster
256 MB RAM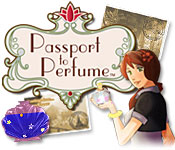 Passport to Perfume Game Description
Passport To Perfume takes you around the world as Sophia, a young adventure-seeker, perfume maker and shop owner in the 1940's. You'll manage a perfume shop, create scents, select from elegant perfume bottle inventory and sell your creations to customers. On weekends, travel the world searching for rare ingredients, perfume bottles and new fragrance recipes. Will you find rarest of alla secret fragrance worn by Marie Antoinette herself? Or will a rival perfumer find it first?
Passport to Perfume full version features include:
48 ingredients to mix and match
5 exotic hidden object locations
16 elegant perfume bottles
Passport to Perfume Game Customer Reviews
I really liked this game. It is fast paced throughout, you get to mix your own perfumes, so you know how much each one will sell for; and there are little hide and seek levels in between where you find extra ingredients to top up your profit. Although some people are disappointed with the medals, I think the medals cover just about everything you do....maybe PF could arrange it though, so you could also post your trophies, that way I think we will all be happy, :)

- by mumma_1
I really enjoyed this game. When I saw that Mean Hampster was involved.. I thought 'oh no.. this is going to be too hard for me.' BUT I was joyfully NOT disappointed in this game. It was certainly not too easy but not so hard that I became frustrated with it and gave up either. It had a great storyline and I enjoyed going on the quests to find new ingredients and mixing the perfumes. I really liked the upgrades, especially the flower pot.. as it was so sweet to be able to give a flower to a customer who was running low on patience and see hearts bloom all around them. All in all, this game is worth every cent I paid and I am glad there was finally a game that kept me entertained and happy. Thank you Playfirst and Mean Hampster.

- by embrisa
Related Games
If you like Passport to Perfume game, you may also like...