Mystic Inn
Conjure up some fun in this magical, mystical action escapade! in addicting Mystic Inn Game
System Requirements
OS: Windows 98/ME/2000/XP/Vista
Memory: 128 MB
CPU: P700
Video: 3D Video Card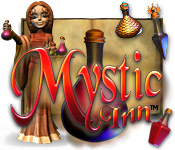 Mystic Inn Game Description
Conjure up some fun in this mystical escapade! Playing as Daphne, the unfortunate hostess ensnared by the enchanted Mystic Inn, you serve all of the patrons in order to get magic to upgrade the inn. Once you have fully upgraded the establishment, the spell that locks Daphne within her confines can be broken! Play the potion building mini-game to create power-ups and unlock juggling frogs, a charming harp, your own take-out owl and other items to enhance your adventure!
Mystic Inn full version features include:
Conjure Up Some Fun!
5 Complete Inn Makeovers
50 Magical Levels
Concoct Your Own Power-Ups!
Mystic Inn Game Customer Reviews
a must-have indeed! this game will make you forget you actually have stuff to do at home, places to go, people to meet... the further you advance in the game, the more surprises await you, and, yes, it *is* highly addictive

- by Amalaswinta
I LOVED this game so much i bought the full version and played it to completion, the graphics are beautiful and the game play smooth, the extra powers you get really help you to succed in this game. A MUST for people who like thes genre of game just unique enough to be a little bit different.

- by amanda30
Very nice game. Interesting gameplay, nice sound, exellent graphics, cute dragons and helpful power-ups. Strongly addictive.

- by MarishaReal
Related Games
If you like Mystic Inn game, you may also like...