Mystika 3: Awakening of the Dragons
Mystika 3 a magic match-3 game! in addicting Mystika 3: Awakening of the Dragons Game
System Requirements
OS: Windows XP/Windows Vista/Windows 7/Windows 8/Windows 10
CPU: 600 Mhz
RAM: 512 MB
DirectX: 9.0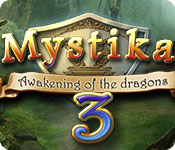 Mystika 3: Awakening of the Dragons Game Description
The world of Lumina is in danger. Thieves have stolen the four Elemental eggs! I, Queen of the Darkness, need your help to bring them back before the Awakening of the Dragons. A fantastic journey awaits you through 200 magic levels. Defeat your enemies with powerful spells and find enough gold to restore Lumina. Get ready to embark on this epic adventure!
Mystika 3: Awakening of the Dragons full version features include:
200 magic levels !
Boost your gameplay as you restore the world.
3 game modes including combats against various characters.
Point and click scenes and hidden objects scenes.
40 Challenges with different match-3 modes.
Mystika 3: Awakening of the Dragons Game Customer Reviews
Overall, Mystika 3: Awakening of the Dragons is a quite satisfying, though ultimately familiar Match-3 experience. Fast-paced in nature, it will draw you in for longer than you¡¯d expect, even if you¡¯re starting to tire of the genre. It¡¯s a game that reminds you of when Match-3 can go well, and its moments of different challenges further enhances the fun that can be had. It should last you quite a while too, thanks to its 200 levels.

- by Gamezebo
I liked this game. Just a nice easy game. The only thing was when you had to play a war game. I just skipped them. I don't play with sound on. Nice game.

- by keyser13
Got the first two Mystikas, liked the first, loved the second and this one surpasses them both in my opinion. More action and more intense, very entertaining game. The graphics are beautiful also. The continued time out with a HOP break is much appreciated.

So glad I bought this, good move.

- by plat1098
This is a really good, fun game, combining HO with Match 3 beautifully. There are battles to be won and treasures to locate, challenging without being impossible. It's about time we had some new games like this one.

- by brimaz
I think it took me all of 15 minutes playing the demo to realize that this game is definitely a "must have" in my collection. The graphics are colorful and pleasing. The storyline grabs you from the very beginning with the element of a HOP/adventure style. The match 3 element can be played in timed and relaxed and the relaxed mode is a must for me. I cannot rate the sound quality as I do not play with the sound on at all.

I am looking forward to playing many many happy hours with this game and its definitely on my list of games I'll want to replay again over and over.

- by Dawgobert
Related Games
If you like Mystika 3: Awakening of the Dragons game, you may also like...