Ancient Quest of Saqqarah
Restore the ruined temples in an ancient tournament of divine puzzles! in addicting Ancient Quest of Saqqarah Game
System Requirements
OS: Windows 98, Windows 2000, Windows XP, Windows Me, Windows Vista
Memory: 256 MB
DirectX: 8.0 or later
CPU: P800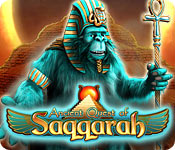 Ancient Quest of Saqqarah Game Description
Restore the ruined temples in an ancient tournament of divine puzzles! Take part in the Ancient Quest of Saqqarah and descend deep below the sands to the magical underground oasis filled with puzzles, treasures and mysteries! It's up to you to fulfill an ancient Egyptian prophecy and stop evil god Seth from breaking out of his arcane tomb prison. In order to succeed the chosen one will have to master 7 different types of puzzles plus mini-games! It's the ultimate match-3 experience!
Ancient Quest of Saqqarah full version features include:
More Than 500 Hand-Crafted Levels!
7 Different Puzzle Game Mechanics!
Earn Ranks, Trophies And Magic Powers!
Hidden Object Bonus Rounds!
Ancient Quest of Saqqarah Game Customer Reviews
Saqqarah is one of those games that everyone should try (and buy!). It has AMAZING graphics, great music, sounds, voice over, and replay value. And on top of that, it doesn't not get tiring, since you can always play the other temples with all new different puzzle mechanics and such. With a huge amount of levels (more than 500), two game modes (normal and relaxed - no time limit), and 7 different gameplay mechanics (not counting the bonus rounds), this game is really worth your time and money.

- by Balthier
This game really hooked me. I love match-3 type games but most of the more recent releases have felt dull clones of the originals. This one is really different and enthralled me right up to I finished the final level in the sixth temple. Amazingly good value game.

- by Piffy
This is the best match 3 games! It doesn't get boring and because of the different variations of play -- it is truly a winner. I'm sure this will be a Zeeby winner next year.

- by GamePlayer
Related Games
If you like Ancient Quest of Saqqarah game, you may also like...