Northern Tale
A beautiful legend filled with magic, bravery and adventure! in addicting Northern Tale Game
System Requirements
OS: Windows XP/Windows Vista/Windows 7
CPU: 1.2 GHz
RAM: 512 MB
DirectX: 9.0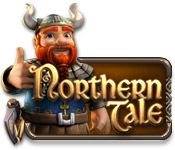 Northern Tale Game Description
Play as the mighty Viking, King Ragnar, and embark on a journey spanning beautiful forests filled with mythical creatures to save your family and cleanse the kingdom of evil in Northern Tale! Join forces with brave companions as you face countless dangers. Bring color back to your realm and use your wisdom, magic and might to restore balance and defeat an evil witch and her cruel servants.
Northern Tale full version features include:
Three season-themed episodes
Detailed graphics and awesome visuals
Bring color back into the world
Northern Tale Game Customer Reviews
This is along the lines of My Kingdom for the Princess,Island Tribe, Roads of Rome etc. You have the options to multi click and to play with no time limit. I personally love TM games and this is no exception. There are a few hidden things to find in the game, and you get little snippets of information about the Vikings. I bought the game before the trial was up as I enjoyed it so much. I have yet to pass the first chapter, but so far I have to say, that for me this game is great fun.

- by CelicaGT4
This is a really good TM game. Much like My Kingdom for the Princess. As you get further it gets harder, but you can replay each level to get the 3 stars. Try to find all hamsters, just a little bonus, just for fun. You can also use the extra bonuses that are available to you, such as speed, double resources etc. You should plan ahead, look at the map and see what you should build first. It's also very funny looking at the vikings movements and what they have to say. Just a fun, strategic game.

- by gryhndlvr
I played through on the untimed and really enjoyed it. I am now playing on the multiple clicks (medium level. It is even better. I wish My Kingdom for a Princess III had these choices. I would buy them all. Kudos to the developer for listening to we older or challenged players.

- by adinah
I love games like these. Northern Tale is addicting, challenging and absolute fun fun fun!! If you like Roads of Rome, My kingdom for the princess and others like these, then you will love Nothern Tale.

- by Kitty
Related Games
If you like Northern Tale game, you may also like...