Fitness Dash
Manage a hectic fitness club in Diner Town. in addicting Fitness Dash Game
System Requirements
OS: Windows XP/Vista
Processor: 1.2 GHz or faster
Memory: 256 MB
DirectX: 8.0 or later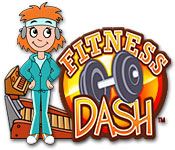 Fitness Dash Game Description
After DinerTown loses in a staggering tug-of-war defeat to the Meatropolis Mashers, Jo the Jogger warns her team mates to keep fit. Seems the residents of DinerTown are just a little too devoted to their expertly-served burgers and shakes, though. Encouraged by Flo, Jo opens a series of gyms and vows to get DinerTown into shape for the next competition. You'll help Jo lead DinerTown to a tug-of-war victory at the Mount Olympus Gym!
Fitness Dash full version features include:
Over 50 levels of game play
Three games in one
Bonus tug-of-war mini-game
Manage fun fitness club
Fitness Dash Game Customer Reviews
although the game is alot like diner dash its still lots of fun and definitly entertaining. its alot better than some of the other diner dash installments. cant wait for a second one to come out

- by ktkoz@sbcglobal.net
This is a terrific, fast-paced game. A classic "Dash" game, if I say so myself. I'd have to disagree with the majority of the other reviews who rated the game one or two stars. If your a Time Management fan, like I am, then it should be worth at LEAST 3 1/2 stars.

- by SkaterCody
Really good, but sometimes I thought it got too hard. There's just not enough to keep the customers happy, but I think it is an excellent dash game. I loved seeing the characters use the fitness equipment. The animations were really good. I thought it was fun, even though my wrist is pretty sore now from trying to get expert on every level. It was pretty challenging. If there's a sequel, it should be interesting to see where they take the concept. But I think this was a good start. GRADE: A

- by gamezchick
Related Games
If you like Fitness Dash game, you may also like...