Plan It Green
Go Green and create the city of the future! in addicting Plan It Green Game
System Requirements
OS: Windows 2000, Windows XP, Windows Vista
Memory: 256 MB
DirectX: 9
CPU: 1.4Ghz
Video: 32MB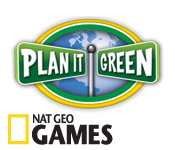 Plan It Green Game Description
Congratulations! You've been elected mayor, and you want to restore your hometown to its former glory. Watch as Greenville transforms before your eyes as you build eco-homes, apply green upgrades and bring in new clean jobs and industry! Plan It Green leverages the resources of National Geographic, an organization that was green when green wasn't cool. Change the ways of the past and bring a new, eco-friendly future to Greenville!
Plan It Green full version features include:
Improve 8 Neighborhoods Across 45 Levels!
Pick The Latest Eco-Upgrades!
Create A Green City!
Watch Greenville Transform Before Your Eyes!
Plan It Green Game Customer Reviews
Plan It Green is an excellent strategy build it style game with an evironmentally concious theme. In the Plan It Green game you've been given the opportunity to plan a green city and plan a green planet future building eco-friendly structures and still make a profit. Plan It Green has 2 game modes, a green theme and great graphics. Plan It Green is a challenging game to play. Just the same as it is in the real world trying to reduce greenhouse gasses. Plan It Green is one of the best build it style games to come along since the original Build-a-lot game!!

- by Zoomer
I'm a huge fan of Build a Lot, but I have to say that National Geographic has converted me to going Green! What an amazing game this is. I haven't yet finished it, but every level so far has been interesting and challenging (except of course, the very first two, which are a tutorial). The variety of choices in what to build, your upgrades, and your choices on what to sell in order to 'greenify' your city is amazing. I normally don't write reviews, but I felt compelled to say something positive about a game that delivers a great message and a great time. Well done, National Geographic, well done! I would recommend this game to anyone (especially your kids)

- by momluvsu
If you liked the Build a lot games then you should try Plan It Green. I found the game challenging but very enjoyable, the time flew by. You can learn green lessons in the game that you can apply in your everyday life!

- by Mary L
Related Games
If you like Plan It Green game, you may also like...