Zoo Vet
The zoo is looking for a new veterinarian and you're the one for the job! in addicting Zoo Vet Game
System Requirements
OS: Windows XP/Vista/7/8
Memory: 128 MB
CPU: P400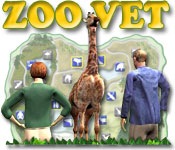 Zoo Vet Game Description
Zoo Vet introduces you to life at the zoo and gives you the ability to care for a diverse group of animals while interacting with entertaining characters. Travel around the zoo performing examinations on cuddly otters and dangerous lions. Gather vital facts about each animal and investigate the animals' ailments using a variety of medical tools. As you become a more knowledgeable and successful veterinarian, you'll earn awards and rise in the ranks to become the zoo's most valuable vet!
Zoo Vet full version features include:
Only You Can Save The Animals!
Over 30 Examination And Treatment Tools
Interact With Numerous Characters
Treat 15 Different Types Of Animals
Zoo Vet Game Customer Reviews
I think this game is very cool because you start knowing how do you start making a zoo. You know things of animals that you didnt know, like special or little things that nobody knows of it .I think this game is really good and can play all the family.

- by Alberto Cossio
This game was a very detailed game that required concentration and actually made you use your brain. You meet zookeepers and assistants that each have their own personality, each is humorous. I found this game somewhat entertaining.

- by craze4sweetz4evar
I enjoyed the game.It's fun to treat the animals and get to know some cool animal facts.I think this game is great for animal lovers[like me] and for those who want to be vets.The graphics are okay and the sound is great.I like the fact the diseases and treatment of animals is realistic.But i'd like to see some more animals and characters,otherwise it gets too repetative.Yet,this game is highly recommended.

- by lordricha
Related Games
If you like Zoo Vet game, you may also like...