Professor Fizzwizzle and the Molten Mystery
Help the Professor outwit the Bat-Bots, once and for all! in addicting Professor Fizzwizzle and the Molten Mystery Game
System Requirements
OS: Windows 2000/XP/Vista
Memory: 192 MB
CPU: P300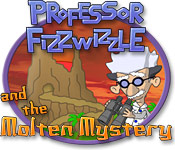 Professor Fizzwizzle and the Molten Mystery Game Description
While on a well deserved vacation, Professor Fizzwizzle's investigation of a strange volcano has landed him in a Molten Mystery! Now it's up to you to master exciting new gadgets, outwit the Bat-Bots, and vanquish a truly cunning villain! Can the professor count on you to help? With more than 75 special kids' levels and over 200 levels in all, keep the entire family entertained with problem-solving fun, Professor Fizzwizzle style!
Professor Fizzwizzle and the Molten Mystery full version features include:
Help Vanquish The Bat-Bots!
More Than 200 Levels Of Fun!
Over 75 Special Kids' Levels!
Create And Share Your Own Levels!
Professor Fizzwizzle and the Molten Mystery Game Customer Reviews
Quite simply the best puzzle game I've played in the past 10 years. Don't worry - the puzzles get plenty challenging after you get past the first 10 or so, which are only there to teach you how everything works. The nice thing is that it never gets TOO challenging, especially since you can always ask the game to show you the solution to a level. Highly recommended!

- by DangerDog9
You won't find much more of a concrete recommendation than this one. Unless you're adverse to kid-friendly games or puzzlers, pick this title up. It will not disappoint.

- by Michael Scarpelli
You know the minigames where you push sliders around in a frame in just the right way to move, say, a red block from the left to the right? That's the basic concept here. Your goal is to move the Professor from entrance to exit. Along the way you run into ice blocks, rolling barrels, flame guns, freeze rays--even teleports. You use the objects, just like those sliders, to open paths as you go. If you like this sort of thing, you'll really like this. Serious mental workout with no time pressure.

- by robin94122
Related Games
If you like Professor Fizzwizzle and the Molten Mystery game, you may also like...