Jump Birdy Jump
Jump to your true love! in addicting Jump Birdy Jump Game
System Requirements
OS: Windows XP/Windows Vista/Windows 7/8
CPU: 1.0 GHz
RAM: 512 MB
DirectX: 9.0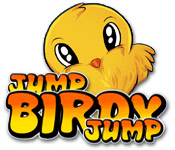 Jump Birdy Jump Game Description
Help unite two love birds in the addicting physics-based Action/Arcade game, Jump birdy Jump! In this seemingly cruel world that they live in, there are many dangerous obstacles standing in their way. Jump from wire to wire avoiding spikes and dangerous pitfalls. Collect as many stars as you can to unlock new levels and bring the two together!
Jump Birdy Jump full version features include:
Exciting gameplay
Adorable artwork
Challenging levels
Jump Birdy Jump Game Customer Reviews
I loved it. The birdy is cute, the music made my feet dance underneath the desk. It took me a couple of minutes to figure out what I needed to do (click and drag the birdy until you have found the best possible angle to catch the stars, land on the next wire, avoid anything dangerous and for Heavens sake do this correctly or the little birdy end up dead). Sadly, exactly THIS action ("click", "drag", "position" and "hold" before letting go) is where I found a big problem for me and that is: IT HURTS! :-( I played only 15 minutes and had to stop as I thought I might suffer a cramp in my lower arm. Especially when I didn't want to rush things and catch all the stars, which requires some observation and thinking.

However...this game is such fun that I laugh into the face of pain and buy it nevertheless. I'm planning to kick start my days with a couple of levels, as this game is one that makes the sun shine on the rainiest of days :-). So I really do recommend this fun game for young and old.

- by Pearly11
Fun, challenging game, but not too challenging, ok, sometimes it is. This is a great hand/eye coordination and timing game where you have to guide the Birdy through a maze of obstacles. Really lots of fun slinging the Birdy through sharp objects, fending off nasty clouds and riding the bubbles up to the top to meet his love. Good thing Birdy has many lives as some of the levels get tough, but always lots of fun. This game can be addictive, and replay value good to try to make all excellent scores. Unlike other reviewers, my hand did not cramp up and I am on the older side. I enjoyed the music as it became a meditative background, but it can be turned off if it is not agreeable.

- by tollermama
Related Games
If you like Jump Birdy Jump game, you may also like...