Reaxxion
Like no breakout game before it, Reaxxion is a unique entertainment experience! in addicting Reaxxion Game
System Requirements
OS: Windows 2000/XP/VISTA
Memory: 256 MB
DirectX: 8.1 or later
CPU: P600
Video: Direct3D 8 compatible 16 or 32-bit Video Car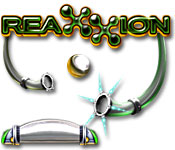 Reaxxion Game Description
Like no breakout game before it, Reaxxion is a unique entertainment experience that will capture your imagination and excite your senses! Generate and absorb balls into the liquid metal paddle, or transform balls into golden, brick-busting dynamos in the "Reaxxion Chamber". With 200 handcrafted levels, nine smashing power-ups and some secret challenge levels, this electrifying game features the ultimate in variety and player-controlled action!
Reaxxion full version features include:
Manipulate The Liquid Metal!
200 Handcrafted Levels!
3 Exciting Game Play Modes!
Unlock The Secret Challenge Levels!
Reaxxion Game Customer Reviews
After I had played the Ricochet series, none of the other breakout games on Reflexive actually held my attention. Ricochet was an extremely well crafted game. ... The graphics get a 5 star as they were what attracted me to the game in the first place. N even after the powerups the balls look beautiful. The sound gets a rating of 5. Amazing background sounds keep you hooked n give u a feeling that u r actually IN the game. The gameplay gets a 5 star rating. A never before gameplay with self ball creation n the concept of "Reaxxions" was amzing stuff for me.

Overall, if u even like breakout games, give this game a try. Of all the games in the site, this is the best, N i mean it.

- by scholarsarena
What a great game, I finally found a game I can give it a 5 stars, great graphics and music, very nice game play, if you like "break quest" then this is the perfect game for you except it is 10 times better. A "buy" game. Note: Not a slow game.

- by triplegamer
This game deserves a higher rating than the reviewer gave it. The levels are sharp and modern with outstanding graphics. The game play is smooth and adictive. You'll enjoy the powerups which are novel and you can actually control how many powerups you collect although not which ones. The music is not the best I've heard but you can turn it off. Try this one. I think you'll be glad you did.

- by AuntieJaneann
Related Games
If you like Reaxxion game, you may also like...