Ricochet Lost Worlds: Recharged
Over 350 electrifying brick-busting levels from around the world! in addicting Ricochet Lost Worlds: Recharged Game
System Requirements
OS: Windows 2000/XP/Vista
Processor: PII 400 Mhz
Memory: 64 MB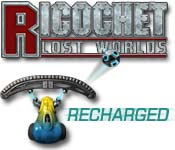 Ricochet Lost Worlds: Recharged Game Description
The award-winning game play of Ricochet Lost Worlds is back! From the talented minds of designers all over the world comes the most dynamic brick-busting experience ever! This wild and warped game has you smashing your way through over 350 beautiful and exhilarating rounds that are truly the best of the best. With its gorgeous artwork and innovative "Ring Game", you need to download it today. Rejuvenated, Reloaded...RECHARGED!
Ricochet Lost Worlds: Recharged full version features include:
Over 350 Levels! (More than Twice the Original!)
Stunning Visuals and Thumping Sounds
Unique "Screen-Saver" Pack you have to see to believe!
Engaging Ring Game
Ricochet Lost Worlds: Recharged Game Customer Reviews
I don't know how you made this game SOOOO adictive. I cant stop playing! It's greater than the gratest games of it's type! There is an icon on my desktop and every time I see it, I must click on ot! Keep up the good work!:)

- by bogdanche
I thoroughly enjoyed playing this game. I found this game to be very challenging. You need to have great hand and eye co-ordinatation to accomplish each of the level(s)!! I would highly recommend this game!

- by Blinky
Great game. Better than Ricochet Lost World, I really enjoy playing all the time

- by Anonymous
Related Games
If you like Ricochet Lost Worlds: Recharged game, you may also like...