The Rise of Atlantis
Bring Atlantis back! in addicting The Rise of Atlantis Game
System Requirements
OS: Windows 98/ME/2000/XP/Vista
CPU: 600 Mhz
RAM: 128 MB
DirectX: 6.0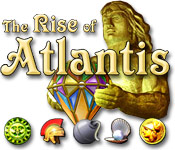 The Rise of Atlantis Game Description
Set out on an adventurous quest around the ancient lands of Greece, Troy, Phoenicia, Babylon, Egypt, Carthage and Rome to gather the seven greatest powers of the patron god of the Atlanteans, Poseidon. Assemble magic artifacts piece by piece and place them on the Altar of Poseidon to help you raise the legendary continent of Atlantis! The Rise of Atlantis, with fantastic gameplay and unique twists, will keep you entertained for weeks!
The Rise of Atlantis full version features include:
77 levels.
7 magic artifacts.
Excellent storyline.
The Rise of Atlantis Game Customer Reviews
This game really gets you from the first moments. I really loved the the animated story intros and the gameplay is quite fascinating both in terms of graphics and effects as well as its twist on the classic match 3. Really enjoy playing this one and will probably be hooked for a while.

- by simpmike05
i love playing this new game it alike a fun puxxle and easlier to learn every steps and there are alot of different shapes with emoticons and alot of levels you can play on and it alike a tresures map with all kinds places you can go to and enjoy youre free moment and time . you might keep playing all the levels you can pass and you get alo of extras points and higher scores on this game.

- by statecalifornia2009
anyone I thinkj would truly enjoy this game and play it all the time. the colors are mbrillant and mthe art work is amszing. I reccomend it to anyone.

- by lsugar134
Related Games
If you like The Rise of Atlantis game, you may also like...