Royal Trouble
Help two royal heirs return to safety! in addicting Royal Trouble Game
System Requirements
OS: Windows XP/Vista/7/8
CPU: 1.0 GHz
RAM: 512 MB
DirectX: 8.0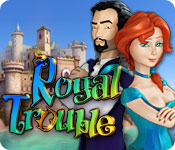 Royal Trouble Game Description
Princess Loreen and Prince Nathaniel have been kidnapped, and need your help to escape from a mysterious dungeon! Control both characters and manage both of their inventories in Royal Trouble, a fast-paced Hidden Object Puzzle Adventure game! Navigate treacherous locations, and escape from the kidnappers before it is too late! Teach Loreen and Nathaniel to work together in order to solve puzzles and reach safety.
Royal Trouble full version features include:
Hilarious characters
Fantastic locations
Escape from the kidnappers!
Royal Trouble Game Customer Reviews
A feisty princess, a devil-may-care prince, and a desire to escape from being held prisoner. Great artwork and storyline. The hidden objects are really puzzles to help the bickering duo escape from various rooms and situations. I appreciated the hints in the diary, which started off vague and got more and more explicit as I needed them. Lighthearted, entertaining, and good fun.

- by sereneorchid
Colorful, humorous, bright, cheerful little game. A nice change from all the dark, ominous, gory games we have been seeing. Artwork is charming, the antagonists romp through the castle is fun but over too soon. Still and all, this little adventure deserves 4 stars for delightful.

- by RRS Artist
I loved this game it was so fun and full of humor. You get to play as two characters who are trying to escape from a kidnapper and both start out hating each other but realize they have to work together in order to escape the castle. There are all kinds of little puzzles and quest's you have to do for other people in order to get them to help you. My only complaint is that the game is way too short but still worth it as it is just so cute and fun. The graphics are very nice and crisp everything is easy to see and the hint system is very generous. I do hope there will be another chapter to this one. Awesome game thank you Orchid games and Big Fish for a whole lot of Royal Fun !

- by gmac1007
I haven't enjoyed a gamed this much in a very long time! I can't think of one thing I didn't like about this game, but plenty awesome things that most games (especially of this genre) lack.

Imaginative, funny, original, engaging, colorful and so much fun! Replay value is that I just liked it so much I want to play again even though I'd probably remember how everything is played. The story & dialogue & character dynamic is that cool.

Thanks to the reviewer who recommended this game otherwise I would have missed out. Highly recommend!

- by Syren
I loved it. The sound could have been beter chosen, but everything else is great. You switch between two characters who are prisoners and can send each other different items using the food lift, in order to help each other finish their tasks and escape. It has hints that reveal gradually what you need to do next, if you don't get it, you press ,,tell me more,, and another more accurate hint reveals itself. The narrator voice is good and the overall story also good. I'm thinking about buying it, although I've completed 50 percent of the game in 2 hours.

- by DulcineaX
Related Games
If you like Royal Trouble game, you may also like...