Samantha Swift and the Golden Touch
Unravel the mysteries of King Midas' Golden Touch! in addicting Samantha Swift and the Golden Touch Game
System Requirements
OS: Windows XP, Windows Vista
Memory: 256 MB
DirectX: 8.1
CPU: 1GHZ
Video: 64MB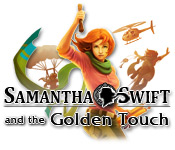 Samantha Swift and the Golden Touch Game Description
On a quest to recover Alexander the Great's Scroll of Wealth, archaeologist and adventurer Samantha Swift realizes that there's more to this mission than she first thought. Now she's racing against the clock to keep ancient powers from falling into the wrong hands! Travel to exotic locations as you discover the ancient secrets and mystery shrouding the famed Golden Touch!
Samantha Swift and the Golden Touch full version features include:
Engrossing Mystery Story!
Travel To Exotic Locations!
Find Helpful Tools In Each Scene!
Uncover The Secrets Of The Golden Touch!
Samantha Swift and the Golden Touch Game Customer Reviews
I have only good things to say about this game. The graphics, story, length, gameplay were perfect. It was the most enjoyable HO game I have played and I have a few. Level of difficulty for me was perfect- I rarley had to use a hint but had to hunt or think at times. Perfect game and anymore like this I would buy in an instant. Big Kudos to the developers of this marvelous game.

- by govegirl
No gripes about this beautiful and user-friendly game. It's a perfect 10, er, 5. lol Recommended for adults, and casual players, take your time, look around, marvel at the lovely hand-drawn scenes AND objects. The mini-puzzles are fun and varied, and don't slow down the HOG elements of the game. You'll be spoiled when you finish this, and will demand more polished games like this one. (Yeah, the maze took a little navigating, but here I am!)

- by zippergirl
Fabulous fun! No glitches, the dialogue made sense, good graphics, definitely gave imagination and creativity a workout; just great fun. This is a wonderful blend of HO and "thinking outside the box" to solve various situations within the scenes. A moment of quandry mixed with a tinge of frustration here and there, but never long enough to cause gnashing of teeth or inventing new descriptive words. Really great.

- by thistle809
Related Games
If you like Samantha Swift and the Golden Touch game, you may also like...