Secret Mission: The Forgotten Island
Help Chanel explore a mysterious island! in addicting Secret Mission: The Forgotten Island Game
System Requirements
OS: Windows XP/Vista
CPU: 1.0 GHz
RAM: 512 MB
DirectX: 9.0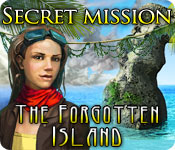 Secret Mission: The Forgotten Island Game Description
The Military has hired world-renowned scientist Chanel Flores to explore a mysterious island that has suddenly appeared in the Bermuda Triangle! During her flight to the island, a mysterious electrical fog engulfed her plane, and forced her to parachute to safety. Help Chanel explore the island, and make her way back to her ship in Secret Mission - The Forgotten Island, a fun and exciting Hidden Object game.
Secret Mission: The Forgotten Island full version features include:
Gorgeous atmosphere
Perplexing puzzles
Explore the island!
Secret Mission: The Forgotten Island Game Customer Reviews
This game is so much fun, visually stunning, and with a compelling story. After 10 minutes i decided i just have to buy this. It's a game that will keep you entertained and challenged especially with all the nice puzzles to work on. My only nick-pick about it, is that it's rather short about 3 hours or so...but still it's a wonderful game just the same.

- by starry_skye26
The sensational graphics made me buy this game, which is altogether well constructed. I don't find it too easy for me, even in Easy mode. (The hints are a bit excessive in Easy mode). Many of the puzzles are new takes on old favorites - like everything else in this game they are well done. In fact there is nothing in this game that I don't like. I hope Frogwares will do a sequel.

- by cnmoore
Wonderfull game with great graphics, clearly made with love. Some animations and nice fitting music bring some life to the scenes. One 'flying' monkey even made me chuckle :) And WOW, you can actually choose screen resolution and even adjust the gamma if you wish. Just for that I would add 10 extra stars! Also a big plus is the usefull map, on which you can travel directly to locations. It 's also very clear where you need to be, what scenes (still) need 'work' ect. You'll never get lost. The story... well ...I'll leave that in the middle because in this case I didn't really care. Puzzles were ok and some nice and there is a skipfunction for the impatient :) Now the downside: Even for a casual game, it's just too easy, especially the hidden object scenes. If this game offered just a little more challenge it would be perfect (and have longer playtime) Still 5 stars though because it's really worth playing. Definitely a high quality game.

- by FatCat
Related Games
If you like Secret Mission: The Forgotten Island game, you may also like...