Settlement: Colossus
Build an empire out of its grass hut roots! in addicting Settlement: Colossus Game
System Requirements
Windows XP/Vista
900 MHz processor
128 MB RAM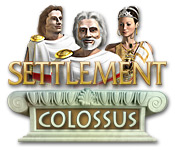 Settlement: Colossus Game Description
Build an empire out of its grass hut roots! Take the role of a 300-year old emperor cursed to live without his true love until he appeases his god for a grievous offense. Gather resources, research new tools and build bigger and better accommodations as you care for your people and attract new citizens to your fold. Featuring outstanding graphics and a breathtaking score, Settlement: Colossus is as epic as it is thrilling!
Settlement: Colossus full version features include:
Over 50 locations
More than 50 mini-games
More than 100 upgrades
30 different resources
Facebook integration
Settlement: Colossus Game Customer Reviews
I really enjoyed this game! The graphics were lovely and the music provided nice atmosphere. Sometimes, I just took in the visuals and mood. The second thing I liked was how much longer this game is! I played it over the course of two weekend days. I cannot remember the last time a game took that long to complete! There's not a lot of high paced, big action play going on here. I'd never played one of those build-your-own games before and always thought they seemed dull. Not at all. This kept me engaged throughout. I found myself wanting to finish building this or that thing, to the point where I remained with the game for hours. At no point was I endlessly frustrated or overly bored - just enough challenge to keep it going for me. I was also very glad to play an HOG that had items that made sense in the scene and for the story. Hooray on that. I got sort of stuck at one point. Without spoiling too much I can say that I had to think a bit more broadly about feeding my settlement to move on at one point. Overall, very enjoyable and two days of intermittent play!

- by thibeaux
I love this game... For one thing, the Hidden Objects are appropriate to the scenerio - if your settlement is out of wood, you're looking for sticks, if it's out of food, you're looking for berries, mushrooms, or various fruits and veggies... For another thing, the scenes are absolutely beautiful and extraordinarily detailed - one of my favorite things to do is poke the frogs and watch them jump and swim away, and I've spent a few minutes just watching the rain fall and the water ripples, or the ants, or the fish - sometimes to the point of almost forgetting what I'm supposed to be looking for. As best as I can tell so far, the game is of a very decent length as well. Grant you, I'm not in any hurry to complete it, so it will probably take me a few days of playing a few hours a day, but there's enough to do that I think even a speedy player would be satisfied at the game length. Although the locations (for instance, forest or lake) are repeated, there are a few variations of each, and even when revisiting the same scene, there are usually some background differences (for instance, it may be raining, or at night) that makes it not seem repetative. I debated waiting until the game was carried by a slightly lower cost game portal, but I'm glad I went ahead and bought it now from the developer instead - it's the only way I know to thank the developers and tell them how much I appreciate the game.

- by TroyeMB
Related Games
If you like Settlement: Colossus game, you may also like...