Snark Busters: All Revved Up!
Snark Busters: All Revved Up offers a ride you'll never forget! in addicting Snark Busters: All Revved Up! Game
System Requirements
Windows XP, Vista or 7
1 GHz processor
512 MB RAM
DirectX 9 compatible video card with 3D acceleration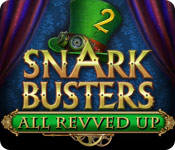 Snark Busters: All Revved Up! Game Description
Snark Busters: All Revved Up tells the incredible story of Jack Blair, a world famous racecar driver who puts his career on hold to catch the Snark. Join Jack as he jumps between the real world and the inverted realms inside of mirrors in an attempt to catch his quarry. Solve dozens of whimsical puzzles; explore worlds of exquisite detail; and keep your eyes peeled for hundreds of cleverly hidden objects! Packed with mini-games, animated cinematics, and clickable surprises, Snark Busters offers a ride you'll never forget!
Snark Busters: All Revved Up! full version features include:
Incredible locations
Fantastic puzzles
Can you catch the Snark?
Snark Busters: All Revved Up! Game Customer Reviews
This is a really fun, whimsical game. It's a fractured object game, meaning you find pieces of the hidden objects in order to form the full object. There is also a lot of interactivity within each scene, which I love. The graphics are outstanding, with lots of vivid colors and excellent artwork. There are tons of places to visit. The story, while strange, is entertaining, and the in-game dialogue is pretty funny. The main character is so irritating, but that's the way the story goes (and it's kind of funny). If you enjoyed the first Snark Busters, you'll probably like this one.

My only issue is that it just... ended. Sort of spoiler alert ahead!

I completed the last of the door puzzles that you need to do in order to get to the next area, and it just stopped. A cut-scene played, and then the credits rolled. It was disappointing because it looks like you're going to get to do another entire "level" of the game and then the game just ends. Other than that, I found everything to be really fantastic.

- by Imberis
I put this one off in favor of some other releases last week until I remembered how much fun it was to play the first Snark Busters. Well, the fun continues in this episode in a similar vain as the first game. The game uses fragmented pieces for the objects in this game which make up an item that is part of another puzzle requiring the item.

The graphics seemed to be better in this episode as there was a lot more detail in the artwork and more animated items on the screen. The amount of interactive spots in this game were phenomenal, clicking just a little too far took you to another room. There are a lot more connected scenes to be played in this game than the first, which would have made this game longer, but it had less chapters and it didn't seem as long.

I don't have much more to say about the game since the previous reviewers have pretty much covered everything, and all I can say is that you will not be disappointed by this game.

- by jkf
I loved the first Snark and am so glad to see a second. This game is simply fun. I love the graphics, music and from what I've seen of the story line its going to be a fun ride. I did however have the game crash when I was going into the first picture frame. The game totally froze up and I had to reboot. I couldn't even do a control, alt, delete. It was totally stuck. I went back to the game and my progress had been saved. I tried to go back into the picture frame and it went in with no problems. I hope this was a fluke. I will be buying this game. I plan on recommending it to all my family too.

- by Slowpokie
Related Games
If you like Snark Busters: All Revved Up! game, you may also like...