Solitaire Kingdom Quest
A fun Solitaire game with a medieval theme. in addicting Solitaire Kingdom Quest Game
System Requirements
OS: Windows XP/Vista/Win7
CPU: 1.0 GHz
RAM: 512 MB
DirectX: 9.0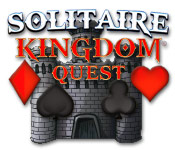 Solitaire Kingdom Quest Game Description
After the King chooses you to join the Solitaire Heroes, you're off on an epic adventure in Solitaire Kingdom Quest! Head out for a dragon's lair, and defeat the Evil Knight who is jealous of your success. Take out his gremlin minions, master his minigames, and defeat terrifying dragons in this exciting Card & Board game. Make the King proud and survive an incredible journey in Solitaire Kingdom Quest!
Solitaire Kingdom Quest full version features include:
Make the King proud
Master the minigames
Defeat the Gremlins!
Enjoy 60 levels of Solitaire fun
New power-ups and special challenges!
Solitaire Kingdom Quest Game Customer Reviews
I usually shy away from card games. They become boring quickly or they ramp up fast and leave me behind in the dust. I have thoroughly enjoyed this game and have been playing it for quite awhile. I am still not through all of the "Quests". Think Knights of the Round Table with cartoon humor and great graphics. The game heaps tons of points on you when you win and says things like "Crazy Awesome Game". What could be better for boosting the old ego? There are tons of power ups and fewer take away cards which make winning a better chance. The daily challenge can be just that. It is probably the most difficult part of the game. Watch out for the "Evil Knight" - he can get you depending on which game he tests you to play. This game is "fun" personified. Give it a try.

- by hankysis3
SLINGO QUEST meets solitaire! This cute game is highly addictive! The graphics are clear and colorful. I do not have sound on this computer so I could not rate it. Gameplay was standard Klondike solitaire with "slingo" twists. All and all an not taxing, addictive game to play during the holidays.

- by banklady95
I love solitaire anyway but this game adds a bit more to "just playing" solitaire. It's not boring like the original solitaire game; it adds a storyline behind it as well which makes it less boring.

- by CherieM61
Great game. Liked the extra twist on standard solitaire. Akailei - the foundation is the 4 or 8 base card sections at the top so stack all the cards at the bottom to get your missing award

- by adoire
I really enjoyed this game. It was a cute story to follow as you played the game. It is a neat twist to the game of solitare! If you like solitare, you will Love this game.

- by innermostsecret2
Related Games
If you like Solitaire Kingdom Quest game, you may also like...