Spooky Bonus
Sinister secrets await you in this adorably ghoulish game! in addicting Spooky Bonus Game
System Requirements
OS: Windows XP/Windows Vista/Windows 7/Windows 8
CPU: 600 Mhz
RAM: 256 MB
DirectX: 7.0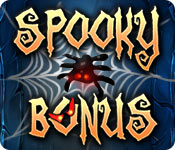 Spooky Bonus Game Description
Uncover dark forces emanating from the heart of Old Town, and grab spooky accessories for your front yard makeover too! You'll be spellbound by this adorably ghoulish horror-themed puzzle game. Match shapes to stamp out evil and advance through Old Town, gathering gold and power-ups as you go. Shop for yard decorations that boost your gameplay. Unleash exploding pumpkins, silver crosses, holy water, and more! The time has come to unlock the sinister secret of Spooky Bonus. A blood curdling adventure awaits you!
Spooky Bonus full version features include:
Decorate your house with spooky ornaments
Gloriously ghoulish graphics
Eerie desktop wallpaper
Relaxed and Timed modes
Spooky Bonus Game Customer Reviews
This is another holiday installment from this developer; improved this year, in my opinion. Tons of levels, big, clear M3 graphics, easy to match, lots of power ups, relaxed or timed. I like these for when my brain isn't up for a serious challenge. Good for kids, not 'scary', just fun and slightly humorous. The outside graphics are cartoon, but that's ok; it's a fun little game to play, and each level gets longer and more challenging, but not brain strainer challenging. LOL If you want a relaxing M3 for the Spooky Season, this works.

- by graciesmith7
This game is one of few match-3 games that I consider just perfect! It is so much fun. The play is quick, and it can be timed or not, so should please every player!

The graphics are wonderful, and creepy enough for adults (me) without too much for the kids. Decorating your house is fun, since we do that in real life too. If you like match-3 games, you'll love this one! If you don't, try it anyway, it's a fun holiday diversion. I want to play "just one more board...just one more board..."

- by twinsoniclab
Love this game! Good graphics, cute halloween theme, good size, excellent replay, fun for everyone with options to play timed or relax mode. Music appropiate and not distracting or annoying. After seeing so many so-so games lately, this was a wonderful surprise. Definately would purchase it.

- by sok30
I love, love, love Match-3 games and I played halfway through the demo and knew this was a definite buy for me. Timed and relaxed modes (and you can apparently change from one to the other during the game instead of having to go to options/settings first). Great, dark (but clear) graphics appropriate to the Halloween theme, music also very good. Game mechanics very smooth and fast. Love the bonuses: silver bullets, pumpkins, crosses, etc after matching 4 or more. Collect coins, gold skulls, gold tiles and tiles of a certain type and earn money/points to buy decorations and bonuses. Lots of humorous touches throughout. The game is similar in play to Holiday Bonus and Spring Bonus so if you are familiar with those games and liked them, you'll probably enjoy this Halloween themed outing.

- by laffin
Related Games
If you like Spooky Bonus game, you may also like...