Simplz: Zoo
Create and personalize your very own zoo in Simplz:Zoo! in addicting Simplz: Zoo Game
System Requirements
OS: Windows XP/Vista/7/8
Memory: 256 MB
DirectX: 8 or OpenGL
CPU: P1GHz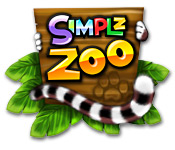 Simplz: Zoo Game Description
Build your very own zoo in Simplz: Zoo! Combining two types of games, simulation and puzzle into one unique adventure, Simplz: Zoo puts you in charge as you decide what animals to add to your zoo, and exactly where to place them. Every month is a new challenge as you balance customer wants with the zoo finances to make your zoo the best in the world!
Simplz: Zoo full version features include:
Over 90 Different Animals!
Made To Make You Smile!
Personalize Your Own Zoo!
Whimsical Graphics And Music!
Simplz: Zoo Game Customer Reviews
OMG what a terrific game! I played the demo. Unlike most trials, for this game you get over two hours to play and decide if you want to buy it. The game itself is a combination of a sims type game and a match-3. The object is to rebuild a zoo (left to your by your grandfather) and make it the number 1 ranked zoo in the world. You play the match-3 portion to earn money, food, building materials, personnel, etc, plus bonus boxes of items you will need for your zoo. You add various animals and their cages or enclosures to your zoo, build pathways between the cages and service buildings, plant trees and other foliage, place benches, water fountains and waste disposal containers around your zoo. There are plenty of tips offered throughout the game and it is fairly easy to learn. I had a lot of fun playing it and highly recommend you give it a try.

- by molly539
There are a lot of very nice touches. The people in the zoo talk with speech balloons, there is an interactive map to take you instantly to any part of your zoo, there are facts about the animals and some low key humor. The graphics have the satiny look that Reflexive games have. Unless I'm mistaken, the music is the same as Unwell Mel - anyway, similar honkytonkish and I like it. Match-3 gameplay is very similar to Big Kahuna. You can switch between Timed and Untimed at any time by just checking or unchecking the box at the beginning of a game. SimplZ is commendably well behaved. When run in windowed mode, it uses practically no CPU cycles when minimized, an essential feature for multitaskers. If there is anything not to like it would be the huge eyes of the animals on the splash screens, plus the rather slow load.

- by cnmoore
Related Games
If you like Simplz: Zoo game, you may also like...